The Greek's Convenient Cinderella by Lynne Graham: Enjoyable and quick read with a fantastic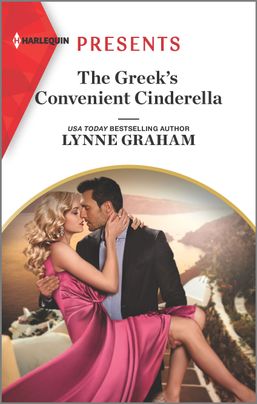 heroine in Tansy. She really spoke how she felt and no muck around with what she thinks and then she will finally say a chapter later – nope she was out and honest and said it how she saw it and I really enjoyed her character.
This marriage of convenience took place because of requirements Jude has to fulfil to save his Mother and he thinks the money he's paying Tansy is her reason but the real reason throws him into a huge spin and page after page Tansy is finding her way and shining brightly despite her exceptionally challenging circumstances. I enjoyed Tansy slowly turning Jude from an emotionless brick wall the guy on the front cover and the redeemed hero in the Epilogue.
The Greek's Convenient Cinderella is a hard one to describe – a Harlequin Presents plotline with the feel of Harlequin Romance. So if you love the tense angsty storylines that feels a bit lighter; this may just be your cup of tea. As per most Lynne Graham books, there's the awful ex to contend with, the awful blackmailing relatives and the family driven drama.
Really enjoyable, thank you Lynne Graham.
Book Info:

Publication: February 2021 | Harlequin Presents |
The bride…the groom…
And the unexpected baby! As innocent Tansy prepares to meet Jude Alexandris at the altar, she knows their vows are purely for convenience—the billionaire must wed immediately to protect his mother's home. However, there's something Tansy hasn't shared: this marriage is her only hope of getting custody of her little half sister!
Jude would be lying if he said he hadn't imagined the passion he might share with Tansy. But he didn't plan on a baby crashing their honeymoon! Suddenly his Cinderella bride is forcing closed-off Jude to rethink the world as he sees it…

Related