The Sweetest Fix by Tessa Bailey: Reese has worked her entire life to achieve her dream of performing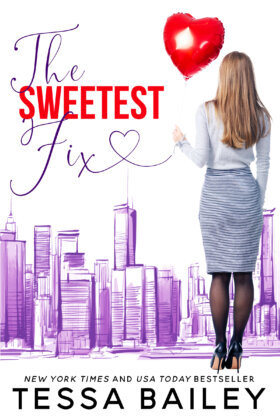 in Broadway, but as everyone knows talent alone does not guarantee you a spot on the famed stages. However it would seem that luck is on Reese side when she wins a chance to audition for Bernard Bexley – one of the most famous and sought out choreographers in the industry – thinking this is the big break that she needs, Reese is all set to give it her all, but then disaster strikes causing Reese to miss her audition. With no way to reschedule or try for another chance Reese has to figure out another way to get in front of Bexley.
"He looked like he just wanted a snack and a belly scratch."
Which is where things begin to get interesting, with the wise advice from a Pikachu (because who else do you ask, really) Reese sets out to find Leo Bexley, Bernard's biker son, with the Hope's he can help get her another chance. However Reese did not factor in the instant chemistry and connection between her and Leo. As their connection continues to grown Reese is left to question does she continue with her plan to use Leo to get to his dad and possibly lose the man of her dreams or does she leave her dream up to fate?
"The taste of her ran through him like a riot, her curves turning pliant, giving against him, her back curving over his arm and they kissed. Great, devouring kisses that weren't fit for public and made him wish like hell they were alone."
This book was perfection! I am a huge fan of Tessa Bailey, her book just hit the spot with a perfect combination of sweet/cute and angsty burn. I absolutely loved that these two characters were so opposite from each other, this big burly biker guy falling for the soft sweet Reese.
For all his big burly exterior Leo was really such a big softy! I loved that Reese was able to bring out his softer sweet side. As for our girl Reese, she was genuinely a good person with a heart of gold. She could have very easily used Leo to get to her dream and hurt him in the process but instead she chose not to be so selfish and mean. But really Leo was the star of this book for me, I'm a sucker for a guy that can bake.
Overall The Sweetest Fix was a perfect read that will leave you feeling all mushy and gooey inside. This is a must read from me! I can not wait to get started in Bailey's next book.
Book Info:

Publication: January 22nd 2021 | Independently published |
Reese dreams of seeing her name in lights on Broadway, but so far she has only graced the used car parking lots of rural Wisconsin. With her window of opportunity shrinking fast, a miracle happens. She wins an audition with Bernard Bexley, Broadway's most respected dance choreographer. When disaster strikes and Reese misses the audition, she has to find another way in front of Bernard, otherwise face the disappointment back home.
Following the sage advice of a Times Square Pikachu—Reese seeks out Bernard's son, prepared to beg for his aid, never expecting mega sparks to fly between her and the gentle giant baker. With Reese's heart now involved, she refuses to use Leo to her advantage and tries to walk away before her ulterior motives are exposed, but gravity continues to draw them back together…until it's impossible to stay apart.
But Reese's lie of omission can only stay buried for so long. When Leo finds out how their relationship started, will Reese keep her ultimate role as Leo's leading lady? Or will the curtain fall on their real-life fairytale?

Related