The Seasons of Callan Reed by S.M. Soto: Daisy always thought that she would live her best life,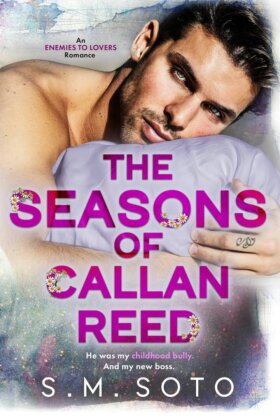 loving husband and a beautiful house that is until her entire world came crashing down, turns out said loving husband has been having an affair with her own cousin. If this was not bad enough the two go and die leaving Daisy to raise their daughter Faith. In desperate need of a change of scenery, which is how Daisy finds herself staying with her best friend Roselind in New York, but wanting to prove that she can finally stand on her Daisy is determined to get a job and be an independent single mother. She just never expected to be working for her former crush.
"She was like gasoline on a fire— so fucking dangerous. She had the ability to draw my attention no matter who I was around."
Callan Reed has spend much of his adult life trying to push down his feelings for his childhood friend, but try as he might there is no way to get Daisy out of his heart or his mind. So when his sister all but insists that he give Daisy a job as his assistant, Callan is torn between wanting to hate Daisy and making her life miserable and dragging her to his bedroom. As it turns out Daisy is a lot stronger than anyone knew and no matter how hard Callan pushed Daisy continues to stand strong, soon the two find that the line between love and hate can blur every easily, and soon heat words turn into even more heated kisses, but the question is will these two old friends finally find their way to each other and get their happy ending?
"We're destiny. We're the goddamn stars. We're that love you can never outrun. The love that never quits. The love that just continues to grow stronger over time. You can't outrun fate. You can't outrun destiny. Not when it's meant to be. Love like that always finds a way to survive."
The Seasons Of Callan Reed was an intense friends to enemies to lovers romance that had me hooked right from the get go. I absolutely loved that Soto added snippet from their past to help us understand these two better. I have to say I absolutely loved Daisy, but boy did my heart break for her. Not only did she lose her mother but her father all but shut down when Daisy needed him the most, adding to this her perfect marriage crumbles and she is left to care for a child that is not her own. Though I do have to say she really is a fighter, taking care of Faith on her own is no easy task let alone while dealing with Callan barking orders at her every day.
"We are a perfect mess, a tale of hearts that continues to be broken over time. But she is mine. And I am never letting her go. She tells me our love is like the seasons, and I plan to make sure nothing but love and immense happiness fills each season."
As for Callan I really thought I would hate him, I mean the guy is a total jerk to Daisy for the majority of the book, but you can see that he is hurting and as much as he wants to be mean and hate Daisy their connection is very much still there. Boy oh boy was the connection and chemistry between these two hot! When they finally got together it was electric, as was their fall out, but I did love how the entire book ends. I have to say the thing that won me over was that he bonded with Faith and it was almost impossible to fight the natural instinct.
Overall this friends to enemies to lovers second chance romance was just perfect! Callan is the definition of mean but Daisy balances out his devilish nature perfectly with her angelic kindness. It is important not to instantly love this book, it is a must read for me!
Book Info:

Publication: February 2nd 2021 | Pub: S.M. Soto|
He was my childhood bully.
And my new boss.
After the death of her husband, Daisy Casillas is lost, desperately trying to repair the wreckage that has now become her life. In need of a job and money to stay afloat, her best friend suggests a position no one in New York is willing to take.
Callan Reed's executive assistant.
The man is a tyrant.
Incredibly rude.
Notoriously arrogant.
Strikingly handsome.
And as fate would have it, her former childhood best friend.
Daisy promised herself she'd never speak to the man again after the destruction of their friendship years ago, but she's desperate. Desperate enough to withstand his cold glares, to follow his impossible tasks to a T, and endure his ridiculous demands.
The hate and animosity they have for each other is real. The barbs they shoot at each other in the office are effective and all too spiteful. But Daisy is willing to risk it all, even if it means another shattered heart.
What ensues between them is a chain of events that unravels the secrets in Daisy's already imperfect life. While struggling to rebuild everything that has crashed around her, Daisy finds herself falling into old habits with Callan. Only this time, she hopes her heart will survive the wreckage.
If there's nothing left of the organ, there's no heart left to break, right?

Related