Bound to You by J.C. Harroway is a steamy workplace romance between two business partners.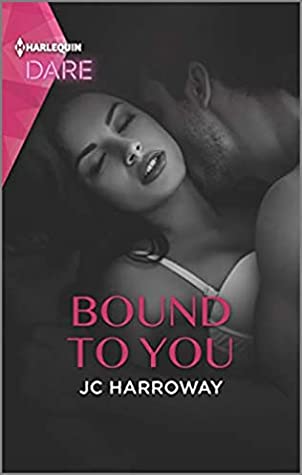 Hudson, Monroe, and Sterling run a business together. Monroe and Sterling used to be married – now they are divorced. Just after the divorce, Hudson and Monroe had a one night stand, but it's been a few years and they all live in different countries so they don't see each other often. Monroe has come to Japan to see Hudson and it's the first time they've been alone together, without Sterling, in a few years. The sparks fly between them and they rekindle their affair. But will it turn into something more?
I enjoyed this story! It's a bit of love triangle in the past theme, as Sterling and Monroe were married and are now friendly exes. Hudson envied their relationship but wasn't interested in Monroe until she was single again. Now though, he worries that their new sexual relationship will cause strain with Sterling, and that getting in too deep emotionally could damage their business. After growing up in the foster system, the thought of losing the business and becoming poor again, and not being in control leaves him determined to keep from caring too much.
Monroe has always wanted a family and kids and she knows that Hudson isn't commitment material. But it doesn't stop her from craving him as much as he craves her. They can't keep their hands off each other when they're alone resulting in several steamy scenes. But eventually they have to decide if they're going to call it quits or make it more permanent. Fortunately Hudson is able to battle his internal enemies and realize that a life with Monroe is what he wants. (And Sterling, who seems to have something else going on in his life that remains a mystery, is happy for them). I really liked the setting, with much of the story taking place in Japan during the cherry blossom festival and then in England. As always, the author combines steamy scenes with well developed characters and delivers an angsty, emotion filled romance. I look forward to reading Sterling's story next!
Book Info:

Publication: Feb 01, 2021 | Harlequin Dare | Billionaire Bedmates #1
Lone wolf billionaire Hudson Black is forbidden fruit—and I've already taken a bite! After our unforgettable one-night stand years ago, we went back to business as usual. We care too much about the company we run with my ex-husband—Hudson's best friend—to let wickedly hot sex interfere with the bottom line.
But when Typhoon Kano traps us in Hudson's high-rise Tokyo office, the heat between us is as potent as the storm outside. Soon things go from intense to incendiary! Just one wild night—that's all I want. So why can't I stop shuddering at his touch, gazing into his dark eyes, craving his body…
After growing up in the foster system, Hudson will never be bound to anyone. And after my failed marriage, I'm not rushing to the altar. But I still want it all—the career, the family, the love of my life. Hudson and I are both risk takers, in work and in bed. Can we trust each other enough to risk our hearts?

Related