Shelter for Cerise by Nicole Flockton is part of Badge of Honor: Tarpley VFD, Police and Fire: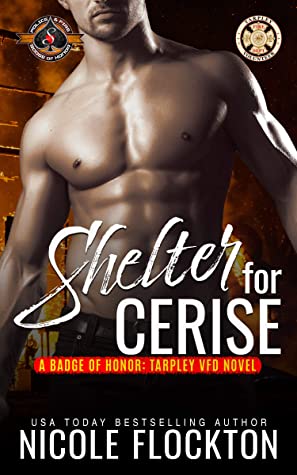 Operation Alpha, where authors write stories in author Susan Stoker's world. A character or two from one of Ms. Stoker's stories plays a part in the Operation Alpha books.
Cerise Robinson is an Emergency Room nurse. The day she accompanied the Life Flight crew to a major accident in Tarpley, Texas was a momentous day. At the time Cerise didn't realize the significance of course. But it was the day she met Brodie Spelling. And it was attraction at first sight. But then she got the call from the Kerrville Boys Home that Finn, the little boy she fostered was back and did Cerise want to foster him again. Of course she did. It seemed that every time Finn's Aunt Poppy, who was named Finn's guardian after his parents died, took up with a new boyfriend Poppy sent Finn back to the boys home. Cerise knew this back and forth wasn't a good thing for Finn. She had grown up in foster care so was well aware of how tough that life could be. Finn needed a secure home filled with love and Cerise wanted to give that to him by adopting him. She knew that would be tough going. Then Brodie came into their lives and that uphill battle didn't seem as difficult. Cerise was falling for Brodie.
Brodie "Dice" Spelling volunteered with the Tarpley Volunteer Fire Department. He had experience as a paramedic so volunteering there was a great way to keep up his skills. His regular day job was working on the Anderson Dude Ranch, a job he really enjoyed. Not that he needed to work. He and a few of his college friends developed a game app which they eventually sold the rights to that made them all very rich. When Brodie met Cerise at the scene of an accident they both responded to Brodie was surprised to find he couldn't stop thinking about her. Running into her and her foster son Finn when he stopped for breakfast one morning turned out to be the beginning of the rest of his life.
I like how I get to see some favorite Susan Stoker characters while enjoying another author's voice and imagination. Ms. Flockton has written a very entertaining story with great characters and a must-keep-reading storyline. It was great traveling along with Brodie, Cerise and Finn to their happy family ending.
Book Info:

Publication: January 19th 2021 | Stoker Aces | Police and Fire: Operation Alpha
After surviving a terrifying tornado, Cerise Robinson has re-evaluated her life goals. Her focus now is on, Finn, her foster son and following her dream to adopt him so that she can call him her own. A relationship is the last thing she's looking for, yet Brodie is not only handsome and sets her heart racing, he's also wonderful to Finn. He's almost too good to be true.
Volunteer fire fighter, Brodie Spelling is as happy on the back of horse working on a dude ranch as he was at creating code for the very successful app he and his college buddies developed. So maybe he's a tech millionaire. No one else needs to know. He's finally found the balance his life needed—yet something is missing. When he meets Cerise, he discovers an attraction he isn't expecting. Nor the connection he quickly develops with her foster son. Does he now have the lost piece to complete his puzzle?
As their relationship develops, danger lurks in the shadows waiting to take what Cerise wants most. She will stop at nothing to save Finn, even if it means putting her life on the line…and losing Brodie.

Related