Her Wicked Marquess by Stacy Reid is the second book in the Sinful Wallflowers series but I don't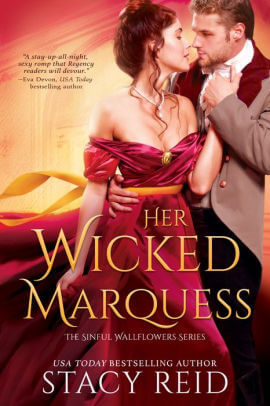 feel like I missed anything by reading it as a stand-alone. The series is based on a group of women who have been labeled wallflowers and they have decided it was time to be daring and not wait for what they want but to take it. This book is not a light, fluffy read and contains some unexpected darkness. It does mention trigger topics such as gang rape, revenge, and physical violence.
Maryann Fitzwilliam is too opinionated, witty, and intelligent for the gentlemen of the ton. Her parents are determined that she marry Lord Stamford, a friend of her fathers. She does not want a lonely, miserable marriage so she plots ways to escape from their demands. When a rumor starts going around that Nicolas was seen climbing out of a woman's window at a house party, she claims it was her window to ruin her reputation. She thought that would discourage Lord Stamford but he is not about to give up so easily.
Nicholas St. Ives had been plotting revenge against the five gentlemen who had raped Arianna, his childhood friend, and love, for several years. No actions were taken against them because she was the daughter of servants and the men were titled gentlemen. Arianna sent him a letter with clues of the gentlemen before she jumped into the river and died. After five years of gathering information and slowly ruining each man who was involved, he is down to the last two men. He is searching for clues that will lead him to the Black Dahlia. He has made several enemies over the years and he is afraid that Maryann will be in danger by having her name associated with his. His attachment to Maryann grows but he will be forced to decide between his love for her and his revenge.
This was an interesting book and I enjoyed seeing Nicholas and Maryann's relationship grow. The twists in the storyline kept my attention and I was certainly surprised with the ending. Overall, it was original but darker than I thought it would be.
Book Info:

Publication: December 29th 2020 | Entangled: Amara | Sinful Wallflowers #2
Miss Maryann Fitzwilliam is too witty and bookish for her own good. No gentleman of the ton will marry her, so her parents arrange for her to wed a man old enough to be her father. But Maryann is ready to use those wits to turn herself into a sinful wallflower.
When the scandal sheet reports a sighting of Nicolas St. Ives, the Marquess of Rothbury, climbing out the chamber windows of a house party, Maryann does the unthinkable. She anonymously claims that the bedchamber belonged to none other than Miss Fitzwilliam, tarnishing her own reputation—and chances of the dastardly union her family secured for her. Now she just needs to convince the marquess to keep his silence.
Turns out Nicolas allows for the scandal to perpetuate for his own reasons… But when Maryann's parents hold fast to their arranged marriage plan, it'll take a scandal of epic proportions for these two to get out of this together.

Related