Today, HJ is pleased to share with you

Jen Talty's

new release: 

Sweet Temptation

Hello Readers,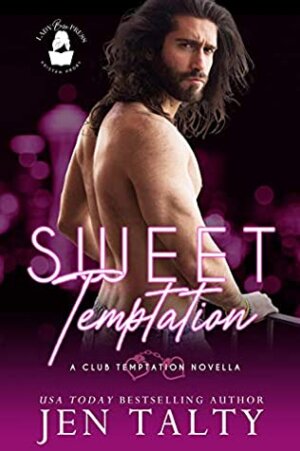 By day, Dixie Gaynor spends her time helping couples work through their relationship issues. By night, she writes a blog: Create the Dew, dedicated to helping women find their sexual groove.
Unfortunately, Dixie feels like a fraud and decides she needs to take a walk on the wild side—or at least as wild as she's willing to go.
Zane Pierce has worked at Club Temptation for the better part of five years. While he doesn't have the sexual tastes the club is notorious for, he does hope to find an open-minded, non-judgmental woman willing to try new things—all while maintaining a modicum of privacy. Lucky for him, the stunning beauty who walks into the club appears to be exactly what he's looking for—until details of their sex life end up on the internet.
Will Zane be able to come to terms with his love life being a teaching tool, or will he let the only woman he's ever truly cared for walk right out of Club Temptation? And his life.
Enjoy an exclusive excerpt from Sweet Temptation 
Zane couldn't help but wonder what kind of kink Dixie was looking to satisfy. He'd seen it all during his years at the club, and the one thing he'd learned was that most realized sex and love always went hand in hand. He just wondered when his ship would arrive.
He dropped her face into an image search, but since it was black and white, he found nothing. Of course, Dixie could be a nickname. She could have a different name elsewhere on the internet. Wouldn't be the first time.
But very few ladies under the age of thirty-five didn't have an Instagram account. Then again, Dixie dealt with couples and their struggles both in and out of the bedroom. He suspected that she needed to keep a safe distance, and being easily accessible through social media might be a recipe for disaster.
But Zane's job was to protect the club and everyone involved. Therefore, he needed to find out as much as he could about Dixie. Although, Nic had referred her, and Nic's husband happened to be a cop.
That should be enough.
"Yo, Zane. Some chick by the name of Dixie is here for you," Erik, one of the security men, said. "She said Nic sent her?"
"She's right on time," Zane said. "What's she like?"
Erik leaned against the doorjamb and fiddled with his wedding ring. They'd come to an understanding, but working together still had its awkward moments. "She's a knockout for one. And as usual with anyone new, she seems a little nervous." Erik handed Zane the interview forms.
"Did she say anything revealing? Anything that might help me guide her to what she really wants?" Most people who came to Club Temptation had no idea the sexual desires that hid in the corners of their minds.
Erik shook his head. "I trust my instincts, and I think she's a tough one to crack. I doubt she even understands her wants and desires, and I suspect she's searching for someone to guide her in the right direction."
"Good to know," Zane said. "And welcome back. I hope you and Lenny had an awesome honeymoon. I mean that."
"I know you do."
Zane nodded. "Send her back." He smoothed down the front of his slacks and did a quick check in the mirror, tucking one side of his long, wavy hair behind an ear. Not that it mattered, but he always liked to dress to kill. And even though he'd only seen one black and white picture of Dixie, he more than liked what he saw.
He glanced down the hall, and the air in his lungs escaped. He tried to take in a deep breath, but he couldn't. He gasped. His heart dropped to his gut like a ton of bricks as the most beautiful woman he'd ever seen strolled down the plum-colored carpet with her head held high. Her long, brilliant copper-red hair bounced over her shoulders with just the right amount of curl to drive a man wild.
Her hips swayed back and forth like one of those momentum ball things that his grandfather used to have on his desk. Like the rest of her body, her hips were round and voluptuous—like a lady's form was supposed to be—with curves in all the right places.
And her plump, rosy lips?
Christ. All he could think about was how they'd feel pressed against his as he took them in a tender kiss.
Sweet temptation.
That's what Dixie Gaynor was. And it would take all of his resolve not to talk her out of finding whatever it was she was looking for at the club.
"You must be Dixie," he said, stretching out his arm. His blood raced through his body in anticipation of feeling her skin against his.
"I take it you're Zane." She blinked once, her long lashes fluttering over her bright teal-colored eyes that reminded him of the Caribbean Sea at sunset.
Tiny electric pulses tickled his fingertips and worked their way to his brain, sending him into momentary shock. He held her fingers for what he knew to be longer than appropriate.
Screw it.
He lifted her hand and kissed the back. "Welcome to Club Temptation."
"Thank you."
"What do you think so far?"
"I haven't really seen much other than the entrance and the bar area. But I didn't expect it to be so…large."
"Would you like a tour of the place?"
God, how he loved the way her porcelain cheeks blushed with a hint of red, and how her green eyes widened with a combination of excitement, fear, and curiosity. A mixture that made him want to take her out of the club and to his bed.
Excerpt. ©Jen Talty. Posted by arrangement with the publisher. All rights reserved.
 
 
Giveaway:

3 eBook copies of SWEET TEMPTATION by Jen Talty
To enter Giveaway: Please complete the Rafflecopter form and post a comment to this Q:

What did you think of the excerpt spotlighted here? Leave a comment with your thoughts on the book…
Meet the Author:
Jen Talty is a USA Today Bestselling Author of Contemporary Romance, Romantic Suspense, and Paranormal Romance. In the fall of 2020, a short story of hers was selected and featured in a 1001 Dark Knights Anthology. She is currently contracted to write in the With Me in Seattle series by Kristen Proby with Lady Boss Press as well as Susan Stoker's Special Forces: Operation Alpha and Elle James's Brotherhood Protectors. For more information, visit Jen's website.
 
Website: https://jentalty.com/
Facebook: https://www.facebook.com/AuthorJenTalty/
Twitter: https://twitter.com/JenTalty
Instagram: https://www.instagram.com/jen_talty/
Newsletter: https://dl.bookfunnel.com/od3icplesg
Goodreads: https://bit.ly/2K16VK3
Amazon: https://amzn.to/36nnKq2
Bookbub: https://www.bookbub.com/authors/jen-talty
Facebook Group: https://www.facebook.com/groups/TheTaltyCrew
 
➡ Grab your copy (Kindle Unlimited): https://amzn.to/3qNbIyM
 
 
 
Related