Snowbound with the Sheriff by Laurel Greer is the sixth book in her Sutter Creek, Montana series.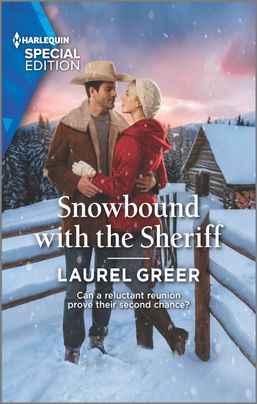 This is a second chance romance story.
Stella Reid is headed to her hometown of Sutter Creek, Montana. She has been forced to leave New York since she became the whistleblower who turned in the CIO of the hedge fund company where she is employed. She reported the fraud and cooperated with the investigation. The FBI agent working the case "strongly suggested" she leave the city at the present stage of the investigation. The agent also reminded Stella of the NDA(non-disclosure statement) she signed.
So here she is driving to Sutter Creek after landing in Bozeman. It's January so the snow is coming down. Typical January Montana weather. Then she sees the blue and red flashing lights. This can't be her being pulled over. She was only going a few miles over the speed limit. Far from speeding. To Stella's chagrin she is indeed being pulled over and to make matters worse it is Sheriff Ryan Rafferty writing her the ticket – for driving too fast for road conditions.
The same Ryan Rafferty who took the blame when they took his uncle's prize truck for a joy ride eighteen years ago which led to her handcuffed on the side of the road after they had an accident in the "borrowed truck." Since Ryan took all the blame Stella got off and didn't lose her college scholarship. Ryan ended their relationship that night. Stella left town shortly thereafter and hadn't visited her family there very often since. Stella knew she'd run into Ryan during her two week stay but this was a shocking way to see him for the first time in eighteen years. It can't be that the spark between them is still there. But can she really deny it?
Ryan Rafferty is the sheriff of Sutter Creek, Montana now. The "borrowed truck" incident that happened eighteen years ago ended with a misdemeanor offense thanks to his grandmother pleading his case to his uncle. That's why he was able to go into law enforcement. Plus this career was his way to make up for his bad boy ways as a teen. Seeing Stella Reid again after all these years was a shock. He never got over her and that spark reignited when he saw her again. But she's New York and he's Sutter Creek – worlds apart. But maybe…
Ms. Greer tells this story in a very realistic way. Rekindling their love is not an easy path for Stella and Ryan. They both fight their attraction which makes things very difficult. Add in Stella's whistleblower status and her need to reestablish herself with her family and that path gets really rough. I loved how this story ends. It was a feel-good, happy ending.
Book Info:

Publication: January 1st 2021 | Harlequin Special Edition |
She returned home to heal her heart
But will her first love break it again?
Humiliated after being outed as a whistleblower at work, Stella Reid returns home to Sutter Creek. She's been gone long enough and is determined to mend fences…and immediately comes face-to-face with the man who broke her heart: Sheriff Ryan Rafferty. Reluctant to trust again, Stella learns that Ryan's no longer a careless bad boy when a blizzard traps them together. But as she opens herself up bit by bit, can Stella find the happily-ever-after she was denied years ago—in his arms?
From Harlequin Special Edition: Believe in love. Overcome obstacles. Find happiness.
Book 1: From Exes to Expecting
Book 2: A Father for Her Child
Book 3: Holiday by Candlelight
Book 4: Their Nine-Month Surprise
Book 5: In Service of Love
Book 6: Snowbound with the Sheriff

Related