Hopeless Romantic by Marina Adair: Beckett Hayes is so used to having to do and give to everyone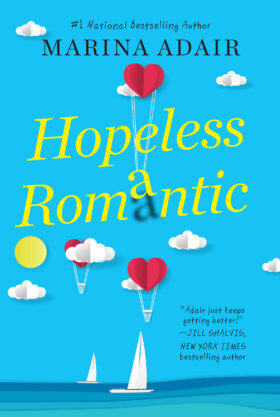 else she most definitely did not see town playboy Levi Rhodes storming into her life demanding that she take some much needed me time. With having to care for her special needs brother and highly dysfunctional father, running her concierge service Consider It Done and training emotional support pets, Beck has her plate full the last thing she needed was to have the town hottie sniffing around. As much as the two love their back and forth banter Beck definitely did not factor in Levi wanting to help plan their best friends wedding all while stick around all of her crazy.
"He looked laid-back, windblown, and ready to break some hearts."
Levi is used to being the strong reliable one after all that has been his role ever since the death of his father and sister, wanting to be close to home to lend a shoulder to cry on and a helping hand to his mother and young niece Levi found himself pushing his dream sailing trip further and further back. With things finally some what settling down Levi can finally set a date for his great sailing trip, however he did not expect to get so wrapped up in the resident Girl Wonder, with all the wedding planning, late night dates and cake tasting Levi soon finds himself wanting to say more than he wants to set sail.
"She opened her eyes and— talk about slaying— those warm brown pools could make a man do stupid things. Stupid, dangerous things . . . like make a happily single guy consider how much happier he'd be with more Beckett in his life."
I absolutely adored the first book in this series and was eager to start this second instalment, and let me tell you Levi and Beck did not disappoint at all! Hopeless Romantic was one of the cutest books I have read, it was incredibly easy to fall in love with both main characters. I absolutely loved Beck, not only did she have a lot to deal with at home but she had such a giving nature. I absolutely loved that she worked with emotional support animals.
Now if there was a swoony guy it definitely has to go to Levi! There was absolutely nothing not to love about this guy, I loved the way he sweet talked and wormed his way under Becks armour. The banter between these two characters was just brilliant, I loved the pull between them and the hilarious relationship that Levi had with Cocky the emotional support rooster. I also loved the bond and connection that Levi and Tommy had, I liked that he helped bring Becks brother out of his shell.
Hopeless Romantic was a brilliant read that I would highly recommend reading, this band of oddball dads sure pull all the right heart strings! I can not wait to read Grayson's book.
Book Info:

Publication: January 26th 2021 | Kensington | When in Rome #2
As caregiver for her autistic brother, Beckett Hayes knows how meaningful a little extra help can be when life happens. Which is why she runs Consider It Done, a personal concierge service in her small town. Her job also gives her the flexibility to follow her passion, being Rome, Rhode Island's unofficial special needs advocate, training emotional support companions in her spare time. There's not much of that, though, and certainly not enough for serious dating. It's always been family first for Beck. But one unquestionably gorgeous, good-natured man is suddenly a temptation that's getting tougher to resist…
Sixteen years ago, Levi Rhodes was ready to sail off into the sunset–literally. But then his father's death and his sister's unexpected pregnancy postponed his sailing scholarship and the adventures he had planned. Running the family marina and bar was the least he could do for his grieving mother. Plus, his niece needed a father-figure. But now that she's in high school and has her bio-dad in her life, Levi's wondering if it's time to get his sea legs under him again…until curvy, caring Beck showed up in his bar, and then in his dreams…

Related