Then There Was You by Mona Shroff: This was a new-to-me author and I am so glad I got the chance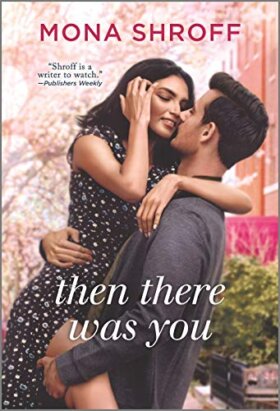 to read it. It was not a light book to read and the characters were dealing with several past and present tragedies such as school shootings, child loss, grief, and racial discrimination.
It was a very emotional book with characters that have complex issues so if you are looking for something fun and cheerful this would not be that book. Unfortunately, the blurb does not include this information and it could be potentially alarming for some readers.
Recently Annika Mehta had gone through a miscarriage and a bad breakup with her ex-fiancé. She was still trying to deal with the loss of her child and her family's disappointment. Her parents had not approved of her ex-fiancé or her career choice. They had wanted her to go to med school and marry a man that honored their family's Indian traditions. They did not understand she wanted to make her own decisions and did not want an arranged marriage. She wanted to marry for love and continue her career as a teacher. This was her first-year teaching and she loved it but some of the children's parents judged her by her skin color and not her actual qualifications. She knew the only way they would see her as a qualified teacher was to continue teaching.
Daniel Bliant worked as a helicopter medic and in the local ER. He had seen Annika when she came into the ER that tragic night and could not forget about her. When he is called out to an emergency at a bar and discovers she works there, he cannot resist going back to see her. He knows that with all his issues he should stay away from her, but she calms his spirit. He still grieves over losing his daughter five years ago in a school shooting. He knows he cannot have a future with Annika because she wants children, and he does not. He cannot face the fear and anguish of worrying or losing another child.
I really enjoyed the book even though it was very emotional. The grief that both Annika and Daniel were going through was difficult for each of them and it complicated their relationship. The loss of a child is not something that can be overcome but they had to accept their loss and be brave enough to overcome their fears to live and love again. I was disappointed the author did not give us a peek at Annika and Daniel's future. I would have loved to see them with a child since the biggest problem for them having a future together was Daniel's fear of having children again.
 
Book Info:

Publication: January 26th 2021 | HQN Books |
The wrong man never felt so right.
When helicopter medic Daniel Bliant answers an emergency call at Phil's Bar, he can't believe who the bartender is: the beautiful woman he saw in his ER months before and hasn't been able to stop thinking about. He should forget her. After all, he knows he's damaged goods. But Annika is intelligent, fun and totally stunning–the breath of life he desperately needs after the incident that left him shattered.
Annika Mehta is doing just fine. She loves her job as a kindergarten teacher, even if the pay is low and she has a side gig working at Phil's. At least the bar owners are more like family. Sure, she's reeling from a bad breakup and the terrible event that caused it, but she's fine. Really. What she doesn't need is Daniel. He's wrong for her in every single way–so why is their chemistry off the charts?

Related