The Secrets She Must Tell by Lucy King: If there were more Finn Clavert's, the world would be a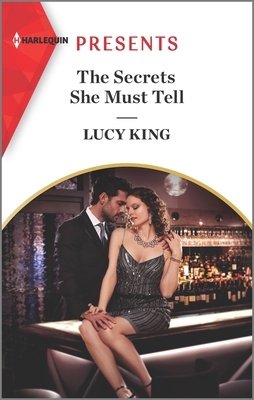 better place!
The Secrets She Must Tell is a December 2020 Harlequin Presents release. It's an emotional read and captured my attention from page one. I wasn't expecting to read another book on NYE but I could not stop reading this one. A mind blowing one night stand results in a beautiful little baby boy Josh. Georgie goes looking for the father, who she only knows by his first name. What rolls out is highly emotional (possibly triggering for some people who this story would be relatable to) and very intriging story.
Georgie's story takes a surprising turn when she reveals to Finn why it's taken her so long to find him. Due to his background, he has no hesitation in helping Georgie and Josh and as he gets to know his son and supports Georgie their relationship grows. However, a 6 month old son isn't Finn's only worry.
Georgie happens to meet Finn at one his lowest points and then again when he is in the middle of trying to solve another life shattering mystery. She isn't the only one with secrets to tell. Somehow between all that and opening his latest hotel and supporting Georgie he also has to face growing feelings for Georgie.
I really liked the unique spin on why Georgie couldn't find Finn straight away. I was a bit disappointed at the end when she left Paris but I realised once it was explained by the author what was happening and understood. I really liked the introduction of the future characters and especially the Epilogue.
I guess at NYE, a time for reflection, I really believe if there were more Finn Calvert's out there, the world would be a better place!
 
Book Info:

Publication: December 2020 | Harlequin Presents | Lost Sons of Argentina Book 1
Untold secrets and unrivaled passion collide in this secret baby romance from Harlequin Presents author Lucy King. Secret #1 is their son
Secret #2 is much harder to reveal…One red-hot night with Finn Calvert was meant to be just that for gregarious lawyer Georgie Wallace. Now she finds herself before the brooding billionaire, not sure she's ready to reveal they have a six-month-old child…
Finn can't deal with any more surprises. He's already reeling from the discovery that he's adopted. He wants answers. Not just about why the memories of their electrifying encounter refuse to be ignored, but the truth behind why Georgie has chosen now to tell Finn that he's a father…
From Harlequin Presents: Escape to exotic locations where passion knows no bounds.
Read all of the Lost Sons of Argentina books!

Related