In No Holding Back (McKenzies of Ridge Trail #1) by Lori Foster, To say life has been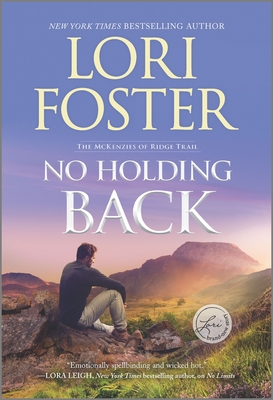 challenging is putting it mildly when it comes to Sterling Parson's past. She's come a long way and finally feels like she's doing what she's meant to do, helping others and using her job as a truck driver as her cover. The safe haven she's found locally though is a bar, of all places–the Tipsy Wolverine in Ridge Trail. But really it's the bar owner that makes Sterling feel like she can let her guard down, if only for a short while. It's when her past comes back to haunt her that she finds out just how trustworthy and protective Cade really is. And she can't get enough of being near him.
'I feel safe with you when I'd forgotten what safe felt like."
His eyes went a little glassy, too. "I will always protect you."
Cade has had his eye on Sterling since the first night she walked into his bar. He's always had good instincts and his gut is telling him that she's overcome a lot of pain in her lifetime. And that she's wading into trouble, something he knows all too well with his background. Cade is also knocked out by Sterling's beauty. She's a strong woman who could prove to be a match for him both in his family's secret endeavors and personally. But trouble shows up too quickly for Cade's liking. And it pulls his two siblings and father into the mix to try to keep Sterling safe. No matter what happens, he intends to win not only her complete trust, but her heart as well.
'In every way imaginable, she was incredibly special.
She was *his*.
She might not know that yet, but somehow he'd make it so, starting right now.'
Talk about unputdownable! No Holding Back introduced us to the incredible McKenzie family in Lori Foster's newest series. Filled with suspenseful moments that will keep you on the edge of your seat as well as passionate scenes that will also have your heart racing, this was truly a story to savor.
'She'd been on her own too long to let anyone, especially a guy with secrets as big as her own, sidle in and take over.'
Trigger warning: View Spoiler »Human/sex trafficking, domestic abuse, murder. « Hide Spoiler
Lori Foster is one of my favorite contemporary authors. I've said before how much I adore her sexy alpha heroes and her smart, capable heroines so I'm happy to say that Cade and Sterling fit that description perfectly. But they were uniquely their own as well. Just like other novels of Foster's that I've devoured, there was a definite element of suspense and action mixed in with the romance that worked exceedingly well in this storyline.
I got the biggest kick out of Sterling. Her background was certainly not a laughing matter, but I was impressed with how strong she became in the face of devastating circumstances and kept room in her heart for others in trouble. Sterling was almost a bit childlike in some ways when it came to Cade and their romance. Not in an annoying way. (lol) She missed out on a lot as a kid/teen so having someone attentive like her alpha guy, showing her care and affection, was all new. Add in Sterling's lack of a verbal filter and you've got a recipe for some epic scenes between her and Cade!
Cade and his family. Wow. What a backstory there as well. A lot of it which lined up with Sterling's own experiences, so they connected on a very deep level. There was something just so right about Cade finding Sterling when and how he did. It brought out the caring side of him, allowing him to find peace he hadn't known in a long time as well, which only made his relationship with his family stronger. I can't wait to see what the other two McKenzie siblings get up to in their novels. Foster nicely set up Cade's brother Reyes's story at the end here–it promises to be a whole lot of fun!
Everything about No Holding Back worked for me. It had compassion, interesting family dynamics, troubled pasts, killer fight scenes, and of course, swoon-worthy romance. Highly recommended.
 
Book Info:

Publication: January 26th 2021 | HQN Books | McKenzies of Ridge Trail #1
Not needing him won't stop her from wanting him…
Trucker Sterling (Star) Parson is no stranger to the challenges a woman faces, both in her industry and in life. But she can take care of herself. She's never needed—or wanted—a man around…until she meets Cade McKenzie. The take-charge bar owner sets off all kinds of alarm bells for Sterling, but he also sets her heart racing.
Cade's lived in Ridge Trail long enough to know trouble when he sees it, and the moment Sterling—Star—walks into his bar, he knows trouble's come to call. Secrets run deep in the small town and Cade can tell Star's got as many as he does, leaving him itching to uncover every last one. But finding common ground will mean trusting one another, further feeding an intense attraction that's growing impossible to resist.

Related