Mr Right Across the Street by Kathryn Freeman: Mia needed a fresh start which is how she found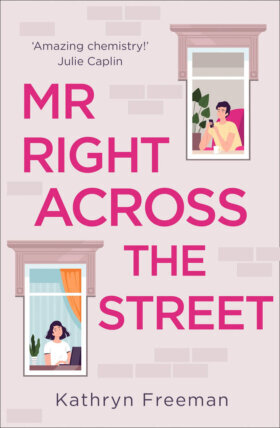 herself in Manchester, however with a move this big comes with some major changes, one of them being having to make new friends and that is a challenge all on it's own especially for an introvert like Mia. However she does have her elderly neighbor Stan and Naomi down at the coffee shop, but with her family pushing her to put herself out there Mia decides to head to the bar below, she however was definitely not expecting to find the hottie who she watches everyday at 10am doing his workout to be the bartender/bar owner.
Luke loves his life just the way it is, he has his bar and he always has a steady flow of women to keep him company but all it takes is a green haired beauty to change everything. From the moment Mia entered his bar Luke felt an immediate pull but with his flirty words and charming smirk falling flat Luke decided to take a different approach with Mia, just friends. However as the two spend more time together exploring Manchester's hidden gems their undeniable attraction for each other become more than either can deny, but will Luke always be a play boy in Mia's eyes or will she finally let her guard down?
"I am looking at you, Mia. The glint of laughter that's nearly always in your eyes, deepening their glorious Smurf blue. The translucence of your skin. The softness of your natural pink lips, the ready smile. The way you're not afraid to say what you think, no bullshit, no guile. The way you challenge me, make me laugh, proper belly laugh, more than I can remember doing in a long time. You dazzle me."
Mr. Right Across The Street was definitely a cute take on the meet cute trope, I absolutely loved the way that Luke tried to woo Mia. Talk about a creative way to chat up a girl that doesn't want to give you her number. This just made the book all the more cute. I really liked Luke, it was nice that we got to see that he was more than just a playboy and that he had a whole reason as to how he got into the bar business. Also how cute was it that he had a rabbit!
Now when it came to Mia, I was on the fence I liked that she didn't change herself for a guy or try to be someone that she was not. However I did feel that she was to stuck on who Luke had hooked up with. I absolutely loved her relationship with Naomi and Stan, and that they to had their own cute little romance. The only draw back in this book for me was that it went way to slow, now don't get me wrong I love a good slow burn but this was a bit to drawn out. I have to mention the super cool cover for this book.
Overall this was a cute read with Mia and Luke going on little non-date-dates. This is definitely a book any romance reader will enjoy.
Book Info:

Publication: January 22nd 2021 | One More Chapter |
Mia Abbott's move to Manchester was supposed to give her time and space from all the disastrous romantic choices she's made in her past. But then the hot guy who lives opposite – the one who works out every day at exactly 10 a.m., not that Mia has noticed thank-you-very-much – starts leaving notes in his window…for her.
Bar owner Luke Doyle has his own issues to deal with but as he shows Mia the sites of her new city he also shows her what real romance looks like for the first time. And when he cooks up a signature cocktail in her honour, she realises that the man behind the bar is even more enticing than any of his creations. And once she's had a taste she knows it will never be enough!

Related