Agent Under Siege by Lena Diaz is the second book in her Justice Seekers series. This is a chilling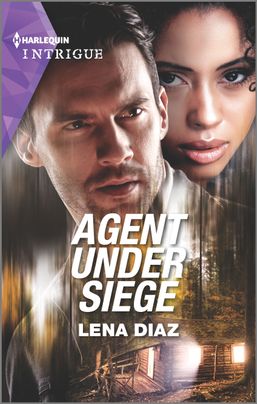 thriller. A serial killer on the loose is scary. Teagan's theory that the police had the wrong man in prison starts this storyline.
Teagan Ray is a survivor. She had been kidnapped and tortured two years ago but managed to escape her kidnapper who was never apprehended. She froze her master degree studies to work on the Kentucky Ripper case. She is convinced the man arrested and convicted as the Kentucky Ripper is a copycat killer and the actual serial killer is still at large.
Teagan is determined to discuss her theory and research with Bryson Anton, the former FBI agent who wrote the profile of the Kentucky Ripper. She approached Mason Ford, Bryson Anton's boss at the Justice Seekers, hoping he could get her a meeting with Bryson. Bryson is on leave from the Justice Seekers after being shot during an earlier case. He doesn't want to meet with Teagan or anyone. Teagan isn't giving up. She decides a direct approach is best.
When Teagan arrives at his front door and tells him why she is there Bryson would like to throw her out, but something stops him. When he hears about Teagan's theory and research and why she is so determined to find the real Kentucky Ripper he sends her away but decides to look into Teagan's abduction himself. After all Teagan has the same mark as the Kentucky Ripper's victims have. Maybe her theory has merit.
Teagan and Bryson end up working together which puts them in some extremely dangerous, life-threatening situations. I could not put this book down. So much was going on that I had to keep reading to find out what would happen next. The ending was quite a surprise. This author has me hooked on this series.
Book Info:

Publication: January 1st 2021 | Harlequin Intrigue | The Justice Seekers #2
Can they outsmart a killer
…who's already escaped justice?
The Kentucky Ripper is in prison…or is he? When no one will help Teagan Ray find the man who really abducted her, former profiler Bryson Anton agrees to investigate. But soon their search takes two jolting turns—brutal attacks from a cunning suspect…and a powerful mutual attraction.
From Harlequin Intrigue: Seek thrills. Solve crimes. Justice served.
The Justice Seekers
Book 1: Cowboy Under Fire
Book 2: Agent Under Siege

Related