Rachel, out of Office by Christina Hovland: If you are up til the wee hours in a manic sleep-deprived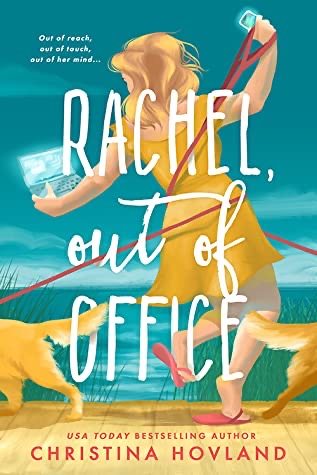 state courtesy of motherhood, career demands and the weighty burden of perfectionism, then this is definitely the novel to keep you company before you fall into a pit of exhaustion.
Rachel, accidental mother of twin boys, is relatively happy with her co-parenting arrangement save for the fact that her ex-husband Gavin appears to be increasingly flaking out in favour of his new fiancé's whims. Thankfully, she has a great network of women around her and her ex-In-laws appear to be picking up some of the slack in Gavin's absence. As things increasingly get heated and day to day living becomes a mini-circus, Rachel's 19 hour days are given some reprieve by the offer to holiday with her ex-In-laws for the summer with the promise that Gavin's brothers Travis and Dave will happily remain on nephew-sitting duty.
As the semi work-holiday for Rachel begins, it is clear that the usual animosity and banter between her and Travis is shifting into something far more intriguing and as the season unfolds, some sneaky clandestine activities begin to challenge Rachel's self-concept and potentially create a significant rift in what for all intents and purposes is a successful family arrangement.
For many women, giving everything 110% often feels like it will never be enough, and the enormity of balancing everyone else's happiness and wellbeing to the detriment of your own, is simply part and parcel of the invincibility persona that sits as a contemporary undercurrent.
Rachel, despite her evident privilege, is created with such concepts in mind, and is a thoroughly engaging character that many women will instantly relate to. Her secretive raunchy tryst with Travis is definitely more than just food for thought, working to raise questions around what has to be sacrificed in order to feel semi-human again.
Whilst a little plot-light, in the sense that the real dramatic element resides in unpacking the thematic intent, Rachel,out of Office will be gobbled down quickly by many and hopefully for some, will correspond with some well earned 'me time', and pave the way for a solid 8 hours of sleep.
Book Info:

Publication: 25th January 2021 | Entangled Publishing LCC |
Single mom Rachel Gibson seriously needs a break. Between an absent ex-husband, rowdy twin boys, and running her own work-from-home business, her candle isn't just burning at both ends, it's a full-blown puddle of wax. She's the go-to girl for other entrepreneurs, handling all the tasks they dread. Social media posts? She's got it. Website updates? She's on it. Light bookkeeping? She loves it.
Thank goodness Rachel's about to get a reprieve, as her former in-laws plan to whisk her boys away for a summer of fun at the family lake house. But when her ex backs out at the last minute, she finds herself in a pickle. Even though she's drowning in to-dos, she's horrible at saying no—especially when it comes to providing some stability for her kids.
Once Rachel arrives at the lake house, she struggles to keep up with work and balance the demands of family, all the while fending off pesky new feelings for her ex-brother-in-law. Which makes her wonder…is falling for her ex-husband's brother just one more messy complication added to the dumpster fire of her life? Or is anything possible when she's out of office…?

Related