Housewife Chronicles by Jennifer Snow: Beth Cartwright is a stay-at-home mom raising two teenage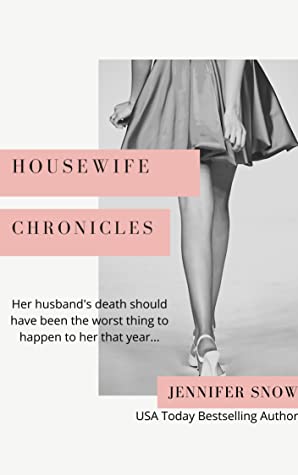 kids and making and selling pottery as a hobby. She is also a widow whose husband, Harold, had an affair with the younger yoga instructor, Gina Thompson, who lives next door.
When the ladies in the neighborhood coffee group discovered the affair between Gina and Harold they told Beth who immediately threw Harold out of their house. So he moved in with Gina. A short time later Gina found Harold dead on her kitchen floor, presumably from a heart attack. But he didn't die from a heart attack.
The toxicology screen after the autopsy indicated he died from Thallium poisoning administered over a period of time. Beth is the prime suspect. The neighborhood coffee group along with Beth and Gina set out to find the killer.
I found it kinda difficult to categorize this story. I am leaning toward a combination of women's fiction and mystery. Harold Cartwright died from Thallium poisoning. The storyline includes the investigation into his death and the relationships among the neighborhood women's coffee group, the relationship between Beth and her children, the relationship between Gina and the Cartwright kids and heavy emphasis on the relationship between Beth and Gina.
This was an entertaining book to read. I did have some reservations about Gina since she was having an affair with Beth's husband and I despise infidelity. I did appreciate that Gina didn't believe Beth was guilty and so was supportive of her.
Book Info:

Publication: January 12th 2021 | Jennifer Snow | N/A
Finding out her husband was cheating on her two weeks before his death should have been the worst thing to happen to Beth Cartwright that year. But being a widowed, single mom in a community of upper-class housewives is proving to be far more difficult.
Living next door to her husband's mistress-Gina Thompson, a hot yoga instructor, has Beth wanting to pack up her teenage kids and get the hell out of the neighborhood. But when she becomes a suspect in her husband's death, she needs to rely on the other neighborhood housewives and her husband's mistress to prove she is innocent.
Housewife Chronicles is a dark comedy with a hint of mystery and a focus on unlikely female friendships.

Related