After the Billionaire's Wedding Vows by Lucy Monroe: Interesting and unique in that Pollyanna's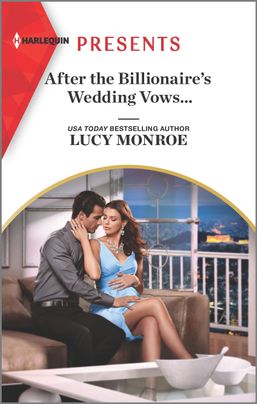 husband Alexandros works out pretty early on that if he's not careful his marriage is about to fall apart. Being married and miserable for five years has taken its toll on Pollyanna and when Alexandros makes overtures of change, she's very much of the I'll believe it when I see it.
External influences and personal tragedies are opened and explored layer by layer and written in an exquisite emotional and touching way. A fearless hero shines and a brave heroine starts to grow like a parched desert flower. Alexandros has the fight of his life on his hands and in a very male way macho mis-steps but his heart is in the right place and once he aligns with the internally beautiful Pollyanna they will become a force to be reckoned with and truly be married in both heart and soul.
I was drawn to this story pre-release because I watched a video posted by the author Lucy Munroe. She personally explained her heart behind the book and I felt the passion and drive behind it. Knowing this I feel it also added layers to the enjoyment of the story. I thought it was well written and Lucy Munroe went all out to evoke emotion. The influences which drove the story were explored with clarity, sincerity and respect. I'm not sure I've ready anything like it… it's usual for the Hero to start building bridges as a story starts speeding towards the conclusion but in After the Billionaire's Wedding Vows I'm treated to Alexandros opening his eyes to what he's been blinded from in the early chapters.
A wonderful story that I will be reading again.
 
Book Info:

Publication: February 2021 | Harlequin Presents |
Can this Greek marriage go the distance? Find out in this passionate and dramatic romance by USA TODAY bestselling author Lucy Monroe!
First came passion, then came vows…
What comes after "I do"?Greek tycoon Andros Kristalakis knew that his white-hot whirlwind romance with Polly could end only one way—with her wearing his ring! He offered her his world of unbelievable luxury while he ruled his family's business empire. But that was all he could give.
Now pregnant Polly has revealed that for the past five years she's secretly craved more! With his marriage on the line, Andros must choose—because closing the distance between himself and Polly will mean destroying the protective barriers he's long fought to keep intact…

Related