Today, HJ is pleased to share with you

A.C. Arthur's

new release: 

Tempt the Dragon

Aiken and Mel never thought they would see each other again.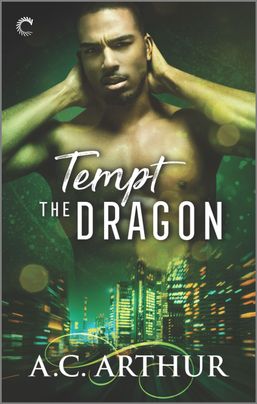 Fate, and a brewing war with a vampire army, had other plans.
After the love of his life walked away, powerful half-human, half-dragon Aiken French isn't about to risk his emotions on a woman ever again. It doesn't matter that his Drakon beast wholeheartedly disagrees, or that his powers of telekinesis are suffering as a result. He can't live through that kind of heartbreak again. But with a long-buried vampire stirring, he might not have a choice.
Bounty hunter Mel Kane never wanted a preordained future—she will be in control of her life, not some Drakon beast who supposedly selects her mate for her. She had to leave, even if it just about killed her. But if she's going to decide her own future, she'll need to stay alive long enough to see it, which means trusting Aiken with her life, even though she couldn't trust him with her heart.
With war on the horizon, Aiken and Mel must track down the rogue vampire behind it all. Temptation leads them back into each other's arms, but even fate isn't a sure thing when faced with a legion of the undead determined to kill them all.
Enjoy an exclusive excerpt from Tempt the Dragon 
Even waking in his arms was different now.
Way back when they were both hunters she'd moved into his lavish penthouse apartment at the top of a building in Miami Beach. He liked to sleep on the left and she favored the right, so that each morning she could roll over onto her side and watch the sun rise over the Atlantic Ocean.
It wasn't morning yet and when she rolled over now, it was to stare at the painting hanging on the wall over his dresser. It was dark in the bedroom, but she could see clearly. For the first time in her life, she could see in the dark without the red haze. She closed her eyes for a few seconds before opening them again just to make sure.
The Wind. That's what the painting was called. Uneven brushstrokes in many shades of blue and gray covered the thirty-six by twenty-four canvas. It took her breath away.
"I was wondering when you'd see it," he said, moving behind her. Why couldn't he sound like a total drunken jerk in the middle of the night? It would make it a lot easier to want to climb out of this bed.
"Why do you have it?"
"You said you liked it." His answer sounded simpler than they both knew it was.
She recalled the day they'd seen the painting at the art gallery in France. "You said you hated it."
His laugh came in a booming burst of joy she hadn't realized she missed until this exact moment. "I did hate it and I still don't know that it's any more than a bunch of slashes of blue paint. But you liked it." The back of his fingers brushed over her bare shoulder. "And I loved you."
I loved you too.
The words floated in her mind the way those blue strokes moved over that canvas. "How long have you had it?"
"I ordered it before I left Miami. It was going to be a second anniversary present for you. The gallery held it for me for two weeks before shipping it to my new location." Two weeks after she'd left him she was back in the bungalow she'd lived in with Rosilda when she was a teenager.
"Never could figure out how you could be so obsessed with clothes and style but knew absolutely nothing about art." Memories of their many shopping sprees where Aiken always bought the most clothes between the two of them, created a light, happy feeling in the center of her chest. It didn't damper the dull ache of the memory of the second anniversary they hadn't spent together.
"Because art is whatever people tell you it is, style is what you make it." He always had an answer. Even when she told him she couldn't stay with him, he'd had an answer—that day it was his silence.
"Myths are whatever people tell you they are." She expected him to stiffen behind her. Instead, he inched closer, until the muscles of his chest pressed against her back and his semi-erect dick was cradled by her ass.
"You were never afraid of anything. From the first time I saw you in action on a hunt, you were fearless. Standing up to me, pushing back against all I've tried to convince you to be, is nothing short of courage in action. Why does accepting who and what you are scare you so much?"
She wasn't afraid. A voice shouted that in her mind, contradictory to the way she curled her fingers into the sheet as anxiety approached. "That's not what scares me, Aiken."
"Then what is it, baby? What's stopping you from staying with me?"
She shook her head. "I really wish it was just about staying with you." She'd almost called him "my love" the way she used to.
"Then tell me what it is. Whatever is keeping me from having you, I want to know."
"It's me," she answered quietly. "I'm stopping us from being together because accepting this thing inside me means I never really knew who or what I was. For as long as I can remember, I've been living and breathing a lie. And all I know how to do is fight back to prevent that lie from destroying me. Can you understand that?"
He'd wrapped his arms around her so tight she almost couldn't breathe, yet the embrace felt good, it felt right.
"I hear you and I don't want you to take what I'm about to say the wrong way, but—"
"Anytime someone says that it means they're about to say something you're bound to take the wrong way."
Excerpt. ©A.C. Arthur. Posted by arrangement with the publisher. All rights reserved.
 
 
Giveaway:

One (1) ebook copy of TEMPT THE DRAGON by A.C. Arthur, open internationally.
To enter Giveaway: Please complete the Rafflecopter form and post a comment to this Q:

What did you think of the excerpt spotlighted here? Leave a comment with your thoughts on the book…
Meet the Author:
AC Arthur has worked as a paralegal in every field of law since high school, but her first love is and will always be writing romance. She's written and won awards for her acclaimed Donovans and Shadow Shifters contemporary and paranormal romance series. Under her pen name, Lacey Baker, she created the quaint small town of Sweetland and wrote the novelization for the Original Hallmark Channel Movie, A Gingerbread Romance.
After years of hosting reader appreciation events, AC created the One Love Reunion, an event designed to bring readers and authors together to celebrate their love of books.
AC resides in Maryland with her family, where she's currently working on her next book…or watching Criminal Minds.
Buy: Harlequin.com | Amazon | Barnes & Noble | Apple Books | Google | Kobo
Related