Today it is my pleasure to Welcome author
Suleikha Snyder
to HJ!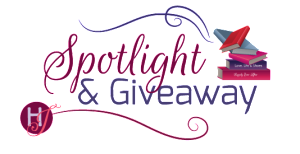 Hi Suleikha and welcome to HJ! We're so excited to chat with you about your new release, Big Bad Wolf!
Please summarize the book for the readers here: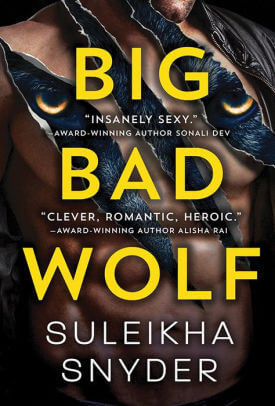 Big Bad Wolf is a paranormal romance take on Marvel's the Punisher, a deeply troubled vigilante who takes the law into his own hands. In my version, with my heroic antihero Joe Peluso, his life isn't quite as dark as the Punisher's, but he still needs someone to bring some light into it. That's Neha Ahluwalia, a lawyer and psychologist on his defense team. Sparks fly pretty much immediately, but when bullets fly before his first court appearance, the duo must go on the run—learning to trust each other, to trust the people who reach out to help them, and to trust their own hearts.
 
Please share your favorite quote from the book:
It was chaos. A swirl of sight and sound and pain. More people burst in through doors at the far end of the warehouse. An East Asian man and a bear being chased by some kind of bird man and a bunch of other hairy shape-shifters. Danny Yeo and Yulia had saved themselves…to a point. Exeunt, pursued by a werebear, she thought with a lunatic giggle.
Please share a few Fun facts about this book…
I don't know if this qualifies as "fun," but in the original draft, everybody was human. As you can imagine, Joe killing people didn't go over quite as well in that iteration of the story. Oops.
There's a little "food break" scene between Neha and her cousin, where they eat pani-puri. That is my absolute favorite Indian appetizer/snack. It's messy but SO delicious.
The character of Finn, my scene-stealing Irish vampire, is very much inspired by Colin O'Donoghue's Captain Hook from ABC's Once Upon a Time. The eyebrows alone. LOL!
What do you want people to take away from reading this book?
That counting on other people, especially your friends and loved ones, is the only way to get through the most difficult of situations. We've had a rough few years, and I talk about that in the book—it's pretty political and a bit angry—but it's the people you surround yourself with and the battles you fight together that make us stronger.
Thanks for blogging at HJ!
Giveaway:

Print copy of BIG BAD WOLF by Suleikha Snyder
To enter Giveaway: Please complete the Rafflecopter form and Post a comment to this Q:

Big Bad Wolf uses supernatural beings and doings to make a wider comment about the plight of marginalized people in the United States today. Is this effective subject matter for a romance novel? Why or why not?
Excerpt from Big Bad Wolf:
"Back so soon?" Joe Peluso arched a dark brow at her, looking just as uncooperative and bruise-mottled as he had upon their first encounter.

"I don't want you to think DGS is ignoring you," she said as she took the chair across from him and dropped her recorder and notepad on the table. "We take our clients very seriously."

Especially when all sorts of city movers and shakers were calling for said clients' heads. Dealing with this kind of tricky political bullshit was new for her, but Nate and Dustin were used to it. They'd sat next to her last week like they were holding court, firing off questions like nothing big was at stake. For them, maybe that was true. They were basically two of the city's best criminal attorneys, working largely with the underprivileged population—usually those impacted by the new Patriot Acts instituted in late 2019. Immigrants, LGBTQ citizens, low-level supernaturals accused of petty crimes. But thanks to good looks and boatloads of charisma, they were also veritable rock stars, minor New York celebrities. The kind of men who got shout-outs in gossip columns and took models out to dinner at the trendiest Greenwich Village hot spots. Dickenson, Gould, and Smythe also handled big-money corporate litigation and high-profile divorce, which was why Nate and Dustin could afford to be pro bono and pro boning. Between the two of them, they had twenty-five years of trial experience and a mind-blowing number of successes.

Neha had barely a quarter of that. She was still making a name for herself. How she handled assisting on this case, how she handled Joe Peluso, could either be the most promising career move she'd made in years…or her biggest disaster to date. And her good looks and charisma? Well, those things weren't seen as assets in women. Neither was a healthy sex life. All she could count on was her dedication and her skill.

It was already clear where Joe's interest was. Not in those things. He paid little attention to her introductory chatter and answered her in monosyllables whenever possible—the same act he'd pulled with Nate and Dustin that first day. All while making sure to focus on her mouth. On the high collar of the blouse she'd chosen to wear today—buttoned all the way up—and the loose fit of her suit jacket. He certainly hadn't done that with his male lawyers.

If this was how all their meetings were going to be, Neha was already over it. But she knew better than to let him see her frustration with his games. "Why don't we talk about your military service?" she suggested. "The prosecution won't overlook your time in the Marines, so neither should we."

He rolled his eyes and made a dismissive hand gesture—or at least a truncated one, since his hands were secured to the table. "I know what this is all about, you know. You and your Brooks Brothers buddies, you want me to get up there and talk about what it was like over there. Paint me as some kind of wounded war veteran who went 'off' because of PTSD. That ain't me, Doc."

"Then who are you?" She followed up with the obvious question.

He gave her another one of those long, slow clothes-stripping looks. "You haven't figured that out yet? Babe, I'm a guy who can't stop thinking about you."
After seeing her once? Yeah, right. And hell was experiencing a polar vortex. Neha understood what he was going for now. It wasn't so much sexual harassment as distraction, distraction, distraction, "Cute. Flattery will get you absolutely nowhere, Joe."

Her shutdown didn't even faze him. "You think this is flattery? I barely know you. It's been, what, a week since you walked your ass in here with Feinberg and Taylor? This ain't flattery. It's obsession."

His dark eyes glinted. No, they smoldered. And if she hadn't guessed it was mostly an act, it would've been a damn good smolder. As it was, the back of Neha's neck prickled uncomfortably and she had to flip through her notes to refocus herself. "It's unproductive, is what it is," she said. "Can we please stay on topic?"

"You are my topic," he insisted. "What if you're my real way out of here, Doc? What if you're my only hope?"

"Bullshit." Neha snorted at the dramatic intensity in his voice. Intensity that she didn't buy for a minute. "You've been watching too many prison movies."

Joe immediately dialed back the swaggering jailhouse Romeo act, relaxing in his seat and huffing out his annoyance. "Yeah, because I've got nothin' to do in here but Netflix and chill."

"I'd suggest switching to The Great British Bake-Off," she said, dryly. "It might keep you from hitting on your lawyers, and you'll learn how to perfect a Victoria sponge to boot."
Excerpt. © Reprinted by permission. All rights reserved.
 
 
Book Info:
They call him a monster. More wolf than man—more dangerous than any predator.
They have no idea.
Joe Peluso has blood on his hands. He took out the mobsters responsible for killing his foster brother, and that one act of vigilante justice has earned him countless enemies in New York's supernatural-controlled underworld. He knows that shifters like him deserve the worst. Darkness. Pain. Solitude. But meeting Neha makes him feel human for the first time in forever.
Lawyer and psychologist Neha Ahluwalia knows Joe is guilty, but she's determined to help him craft a solid defense…even if she can't defend her own obsession. Just one look from the wolf shifter makes her skin burn hot and her pulse race. When a payback hit goes wrong, Neha's forced to make a choice: help Joe escape or leave him to his fate. Before long they're on the run—from the monsters who want him dead, from their own traitorous hearts, and from an attraction that threatens to destroy them.
Book Links: Amazon | B&N | iTunes | Kobo |BAM |
 
 
Meet the Author:
Suleikha Snyder is a bestselling and award-winning author of contemporary and erotic romance. Her stories have been showcased in Entertainment Weekly, BuzzFeed, The Times of India, and NPR. A passionate advocate for diversity and inclusivity in publishing, she is frequently ranting when she should really be adding to her body of work. For more information, visit suleikhasnyder.com.
 
 
 
Related