Whole Lotta Love by Erika Kelly: All her life Lulu Cavanaugh has always found joy in food, the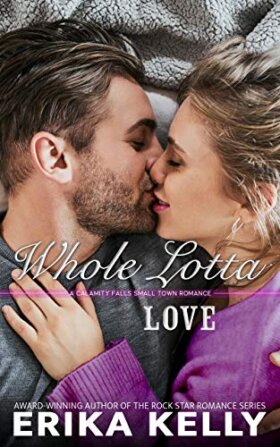 kitchen and creating delicious delights are her happy place, so when she get her dream job as chief de cuisine at a top restaurant in Hawaii Lu is all but ready to take over the world. But when things go south and Lu is let go from said dream job she finds herself in a big pickle; how does she tell her overachieving family that she failed at the one thing she is good at? Thinking fast Lu comes up with a back up plan, try and land a network tv show all about cooking while showcasing her beautiful home town. While the tv gig requires some work on her side Lu never imagined that she would be doing it along side sexy broody football player Alexander Wilder.
"Xander was the missing piece of her soul , and she knew that because with him she finally felt complete."
Xander has worked his entire life to play in the big leagues, hell he was dumber a phenom but with two major shoulder injuries Xander cant seem to catch a break and with his contract running out, it is beginning to look like his chance at following in his family's footsteps might be coming to an end. However Xander is not quiet ready to give up on his dream which is how he finds himself staring in a cooking show alongside Lulu.
"And you're gorgeous and funny and intelligent, and you've got this passion that's…" He went quiet, thoughtful. "It's sexy, and it makes a man want to know what it would feel like to have all that passion focused on him."
With their unique cooking show well on the road to becoming a hit, things between Lu and Xander begin to heat up but what happens when a dream both through was not possible anymore comes knocking? Will these two be able to find away to make things work or will the best damn thing to happen to either of them go up in flames?
"You know how in romance books the heroine melts at the hero's touch? I never understood that before. I'd never felt that kind of heat, that need that goes so deep it feels…Yes, and I love it. I love the way I let go so completely when I'm with him."
BRILLIANT! This book was incredible, I could not put this book down, that is how good Lu and Xanders story was. I fell in love with these two characters instantly. I loved that at the surface they looked like complete opposites but in actual fact they were a perfect match. I loved the way they brought out the best in each other but at the same time pushed each other to follow their dreams even if that meant they wouldn't be together all the time.
"With you in my life, I don't have any holes, there's no emptiness. I feel complete. Lulu, I love you, and there's nothing I want more than to spend the rest of my life with you."
There was absolutely nothing not to love about Xander, he worked the whole silent sexy brooding look perfectly, while being a complete softy on the down low. Also how hot is it when a man loves to cook and Xander had this down to an art! But the real star of this book has to be Lulu, I found that her character had so much if depth, coming from a big out going family she felt like the wallflower but really she was the star of the family she just didn't know it. I loved her passion for food and cooking and that ultimately she found her way back to that passion. I adored the relatable that she had with her sisters, well two of them anyway, I absolutely could not stand Stella. Not to sure how I am going to feel about her book…
"I want your passion, your energy, your drive… I want your touch, your laughter, your conversation. I knew from the moment I met you that you were my forever. Some way, somehow, I knew I'd make you mine. And for the rest of our lives and into eternity, my heart is yours, and yours alone."
This was one of the BEST books that I have read in a long time! I can not say it enough Whole Lotta Love was absolutely brilliant! Do yourself a favor and get a copy of this sweet sports/cooking romance that will melt your heart and warm your soul!
Book Info:

Publication: February 18th 2021 | EK Publishing, LLC | Calamity Falls Small Town Romance #7
Lulu Cavanaugh's a liar.
The moment she lost her job running the fanciest restaurant on Maui, Lulu threw herself into recovery-mode. She's pitched a cooking show, and as soon as it gets the green light, she'll come clean to her family. Prodigy chefs don't fail–so she's waiting until she has the kind of news that will blow them away.
Alexander Wilder flamed out.
An injury cut short the quarterback's promising career, but he's determined to find his way back–even if it means swerving in the most unexpected way. So, when a producer offers him a cooking show, he takes it. He grew up in his mom's restaurant, so he knows his way around a kitchen, and it'll give him much-needed visibility…why not?
Lulu nails her audition. But before she can pop open the champagne in celebration, the producers drop a bomb: they're giving her a co-host. And she can pretty much take it or leave it, because the quarterback's got the starring role.
What happens when these enemies become lovers?
Heat so hot even the kitchen can't stand it.

Related