The Greek's Secret Heir by Rebecca Winters: Alexa met and fell in love during a whirlwind romance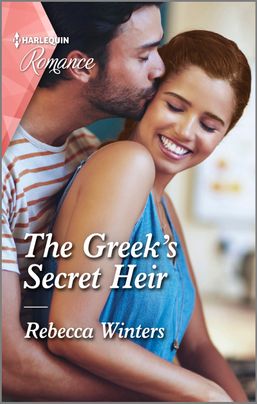 with Nico Angelis when she was only seventeen. They had plans to reunite after he served his one year in the military. Through a series of issues, including betrayal by Alexa's friend, Alexa is pregnant and thinks Nico has deserted her.
Fast forward eighteen years and Alexa is going with her daughter Dimitra to a get together with Dimitra's boyfriend, Kristos. Who should be there but Nico, as handsome as ever? Nico assumes that Alexa didn't really love his as much as she claimed because she must have had a baby with another man. When Nico finds out Dimitra is his daughter he is thrilled, but, at the same time, mad that Alexa never got in touch and told him about the baby.
As Nico and Alexa are thrown together more with the romance of Kristos and Dimitra, Nico wonders if they can re-ignite their long ago passion. Alexa is hesitant for many reasons, but it is hard to resist a man who looks like a Greek god statue and is so kind and generous.
I love stories that center around exotic settings and different cultures. This novel certainly showed universal themes of love and forgiveness. Nico many be extremely rich, but his main focus is on family and long lasting love. Alexa comes from a background that has been supportive, but she still has trouble with believing she deserves love from Nico.
I have never been to Greece, but all the pictures and movies I have seen make it look quite lovely with old world charm. I am happy I went on this voyage with The Greek's Secret Heir.
Book Info:

Publication: January 1, 2021 | Harlequin Romance | Secrets of a Billionaire #1
The billionaire is back…
…for good?Alexa has never forgotten her first love, Nico Angelis. A mix-up tore their relationship apart… and Alexa felt like she had no choice but to keep their child a secret. Now Nico is back. He can't believe he's a father. While Alexa is thrilled that he wants to be a part of their daughter's life…is she ready to be part of his?
From Harlequin Romance: Be swept away by glamorous and heartfelt love stories.

Related