The Truth About Dukes by Grace Burrowes  is the fifth book in the Rogues to Riches series. It can be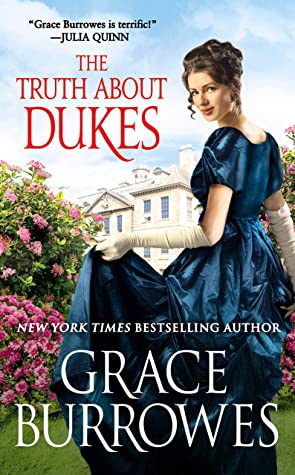 read as a stand-alone, but I feel that reading the previous books gave me more background of the characters which made the book better. I always look forward to new books from this author and especially from this series. I love the Wentworth family and all their family and friends. They had such a rough childhood, but they overcame their difficulties, and seeing them get their happy ever after is so satisfying.
Lady Constance Wentworth had run away at a young age, worked as a maid in an asylum, and secretly had a daughter. Now she tries to blend into the background of society and avoid scandals. Constance meets Robert Rothmere again when her sister Althea was engaged to Nathaniel Rothmere. She never forgot the help he had given her years before when she worked in the asylum. She finds him to be a good companion and wants to marry him, but she is afraid her past will be more than he can handle.
The Duke of Rothhaven sent his heir, Robert, to a private asylum and declared him dead at a young age. His younger brother, Nathaniel, assumed the title when his father passed not knowing Robert was alive. When Nathaniel discovers Robert is alive, he brings Robert home to Rothhaven Hall, but after many years of living in the asylum, Robert wasn't ready to take over the dukedom responsibilities. He convinced Nathaniel to continue acting as the duke until Nathaniel meets Lady Althea Wentworth and wants to get married (A Duke by Any Other Name: Rogues to Riches #6). Robert knows that soon one of his enemies will try to get access to his wealth by returning him to an asylum. He hopes by marrying a proper lady he can overcome his enemy's plans and he knows the only woman for him is Constance.
I really enjoy reading books by this author. She has such a beautiful gift for words and her books flow so smoothly. She has a way of drawing the reader in and immersing them into the story. Her characters always have a lot of depth and are so easy to connect with. You can feel their emotions so strongly and want to cheer for them to overcome their difficulties and have their happy ever after. The next book will be Stephen's and I can't wait for it. He so deserves a woman who can make him happy after all the difficulties he has faced and overcame.
 
Book Info:

Publication: November 10th 2020 | Forever | Rogues to Riches #5
Robert Rothmere is hiding a past no duke should have endured, but he's not hiding it well enough. Sooner or later, his enemies will learn that he spent years locked away at a private asylum. To get their hands on his wealth, they'll try to send him right back to his worst nightmares. If Robert is to foil their schemes, he needs to marry a perfectly proper, blessedly boring, deadly dull duchess, immediately—and he knows exactly which quietly delightful lady he'd love to entrust with that role.
Lady Constance Wentworth has cultivated a reputation for utter forgettability. She never speaks out of turn (in public), never has a daring thought (that she admits aloud), and never comes close to courting scandal… as far as anybody knows. Her path crossed Robert's years ago, though, and she's never forgotten the extraordinary lengths he traveled to keep her safe when she hadn't a friend in the world. She longs to be his demure duchess…but little does he know that to marry her would be utter madness.

Related