South Dakota Showdown by Nicole Helm  begins this author's new series, Badland Cops. This series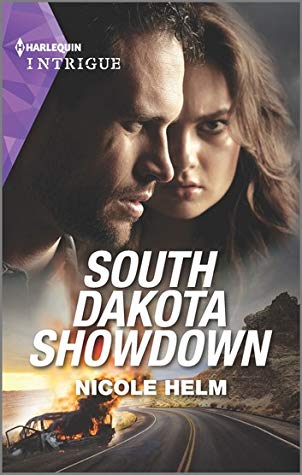 is about six brothers who have escaped from their brutal life with their Sons of the Badlands biker group leader father.
Sheriff Jamison Wyatt is just finishing up his shift in his small hometown of Bonesteel, South Dakota when he notices someone by his office door. A breakin? Jamison will stop that. Turns out the person by Jamison's door is Liza Dean. Both Jamison and Liza grew up in the camps of the Sons of the Badlands biker group, a murderous, cruel group of criminals. Jamison managed to get his five younger brothers out and then he and Liza escaped. But Liza ended up going back. What is she doing here?
Liza Dean needs Jamison's help. Her four-year-old half-sister, Gigi is missing. Gigi told Liza that she saw the murder of her mother. The Sons never hesitate to brutalize and murder but surely they wouldn't kill a four-year-old girl whose father is the very powerful second in command of the Sons. Jamison doesn't trust Liza but fortunately he agrees to help her find and rescue Gigi. She knew he would. If only she could stifle her feelings for him. Could he still care about her as much as he did when they were younger? Will his mistrust snuff out his feelings? Doesn't matter. The only thing that matters is rescuing Gigi.
In this first book the eldest brother, Jamison, who got his five younger brothers out of the camp and to their grandmother in Bonesteel to raise, is the main character along with Liza Dean. Four of the six brothers ended up in law enforcement roles, quite the counterpoint to their brutal outlaw father. I found the premise of this series quite interesting. The characters are intriguing. I look forward to the stories of all the brothers.
Book Info:

Publication: March 1st 2020 | Harlequin Intrigue | Badlands Cops #1
He finally escaped his past…Then she appeared on his doorstep.
Sheriff Jamison Wyatt has spent his life helping his loved ones elude his father's ruthless gang of thugs, the Sons of the Badlands. But he's never forgotten Liza Dean, the one who got away. Now Liza's sister, a child, is caught in the gang's most horrifying crime yet—and only Jamison can help her retrieve the little girl from her captors. With only each other in the isolation of the unforgiving South Dakota landscape, can they infiltrate the crime syndicate before it's too late?

Related