Today it is my pleasure to Welcome author
Kim Fielding
to HJ!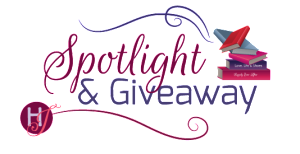 Hi Kim and welcome to HJ! We're so excited to chat with you about your new release, Teddy Spenser Isn't Looking for Love!
 
Thanks so much for letting me visit!
 
To start off, can you please tell us a little bit about this book?: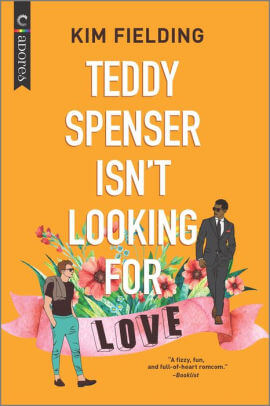 Teddy Spenser Isn't Looking for Love is a rom-com about a guy who reluctantly finds himself falling for his co-worker. At first, Teddy has a lot of misconceptions about Romeo, but when they're forced to spend a lot of time close together on a strange business trip, Teddy learns that Romeo is much different than he'd assumed—and far more alluring.
 
Please share your favorite lines or quote(s) from this book:
"So Romeo really is your name?"
"Do I seem like the kind of guy who'd call himself Romeo if it wasn't?"
He had a point.

*

Finishing the bread and leaning back in his seat, Romeo fixed Teddy with a piercing look. "What's your dream job? If you could do anything at all."
"It's stupid."
"Dreams are never stupid, but ignoring them sure is," Romeo responded smugly.
"That sounds like a quote."
"My mama's. So what's your dream?"

*

Romeo replaced his palm with his lips and gave Teddy a dry little kiss. "Go to sleep, Teddy."
"Can't. Mind's too swirly."
Romeo's answering chuckle warmed Teddy like an electric blanket on his soul. "Figures," Romeo said. "Even your thought waves have interesting patterns."
What inspired this book?
Locations often inspire my stories. In this case, the book takes place in two of my favorite cities: Chicago and Seattle. The story is set in February, which can be a bleak month in both cities, because I wanted to show how love can sometimes creep up on us when we least expect it and when it seems most hopeless.
Another inspiration for this book was the importance of authenticity. I think things often work out best when we're true to who we really are, but sometimes it can be a challenge to reach that goal. Support from people who care about us can help a lot, though.
Finally, I love playing with romance tropes, and forced proximity is one of my favorites. What happens when two people who don't like each other have no choice but to spend a lot of time together? Really together, as in there's only one bed. Sometimes they end up very pleasantly surprised!
How did you 'get to know' your main characters? Did they ever surprise you?
I always get to know my characters in the process of writing them. I may begin with a general idea of what's going to happen, but eventually they develop minds of their own. At that point, it's best to let them run the show. It's a little bit like having children. And just like children, characters can and do surprise me.
In this particular book, Romeo surprised me the most, maybe because I learned about him through Spenser's eyes. One thing I discovered about Romeo was how important his relationship had been with his late father, and how, even though his father died young, he had such a lasting influence on the man Romeo became. Romeo's dad never had the chance to go to college, but he loved language and science, and he enjoyed retro music and old sci fi movies. He passed all of these interests on to his son, and they're part of the reason Teddy ends up falling for Romeo.
What was your favorite scene to write?
One scene takes place in an escape room. It was really fun to write because I got to invent a scenario that my heroes have to solve in order to get out of the room—and because the guys end up getting distracted with things that have nothing to do with the puzzle. Like this:
Teddy was even more enthusiastic about this one and kissed right back. What followed was the most intense make-out session he'd ever experienced—especially while remaining fully clothed. If there had been a Kissing Olympics, he and Romeo would have been gold medalists for sure, even though they hadn't practiced at all. Teddy felt as if he had a skull full of champagne bubbles and, where his heart should be, a mouse running very fast on its exercise wheel. Kissing Gregory had never been like this. God, Teddy was going to pass out soon because all his oxygen was gone and his blood was cavorting below the belt, and he didn't care one bit because this was perfection, it was Nirvana, it was—
"Do you guys need another hint?"
They startled so violently that Romeo hit his head on the shelf and then stumbled into Teddy, whose weak ankle gave out. Teddy collapsed to the floor with Romeo on top of him.
"Guys?" Now the voice through the speaker sounded concerned.
What was the most difficult scene to write?
Most of this book is lighthearted, but there's a scene near the end when the guys have to make a really tough decision. I can't give too much away here, but I can say that it appears very much that no matter what they decide, one of them is going to face a personal disaster. Of course I want them both to be happy, so it's hard to see them endure this.
Would you say this book showcases your writing style or is it a departure for you?
My writing is eclectic. I've done a lot of different genres, and my stories range from light and fluffy to hardcore angst. This book is definitely more toward the fluffier end. I do think all of my books have a common thread, however, whether they be horror or romantic comedy: the characters feel real to me when I write them. I hope that means they also feel real to readers.
What do you want people to take away from reading this book?
I think nowadays we can all use a story that's upbeat and hopeful, so that's a big goal. The central message, though, is that everybody deserves love. Sometimes we find it unexpectedly, but it always has the power to transform us in positive ways.
What are you currently working on? What other releases do you have planned?
My next release is called The Muffin Man; it comes out on February 11. It was inspired partially by Sleeping Beauty and some other familiar fairy tales, but a good chunk of the story takes place in contemporary California. And there is sentient sourdough starter.
I'm almost done now with my next manuscript, a space opera involving a dashing but not particularly law-abiding spaceship captain who ends up with a surprising and troublesome cargo. My working title for that one is Potential Energy.
Thanks for blogging at HJ!
Giveaway:

1 trade paperback copy of TEDDY SPENSER ISN'T LOOKING FOR LOVE by Kim Fielding (limited to North American entrants only)
To enter Giveaway: Please complete the Rafflecopter form and Post a comment to this Q:

Teddy and Romeo discover romance in some surprising places. What do you think is an especially romantic location?
Excerpt from Teddy Spenser Isn't Looking for Love:
And Lauren's demeanor changed instantly, her eyes sparkling and her shoulders twitching with excitement. "Yes! I'm so psyched over the newest development."
Teddy and Romeo exchanged confused glances. "What's the development?" Teddy asked, not sure he wanted the answer.
"A potential investor! She believes in us and is almost ready to pump a whole lot of money into our production. She'll get fully behind our marketing too, which is important because she has all the right connections. With her on board, everyone can keep their jobs." She tapped her fingers on her upper arms. "And you know who she is? Joyce Alexander!"
With difficulty, Teddy suppressed a squeal. "The Joyce Alexander? Seriously?"
"Yes!"
"That's incredible! How did you even—wow, Lauren, this is huge!"
"I know!" she sang. "I just found out less than an hour ago, and I had to take some time to calm down before I could even talk about it to anyone. I mean, it's not just a fat bank account we're dealing with here, but celebrities. Media! With her help, I can see us splashed all over the major décor mags and lifestyle blogs. Reddyflora vases could be the must-have accessory. Like those Brno chairs and furry cushions everyone was buying a few years back."
"Like ubiquitous succulents," said Teddy, who was way over that trend, especially since all of his plants had promptly died.
"Exactly! We are the succulents of the future!" Lauren and Teddy leaped to their feet and high-fived with such enthusiasm that they almost toppled the little stone cairn.
"Who's Joyce Alexander?"
Both Lauren and Teddy gaped at Romeo, but it was Teddy who spoke first. "The fashion goddess?"
Romeo shook his head. "I don't really know fashion."
That was news to Teddy, who thought Romeo always looked well put together, but Romeo seemed sincere. Teddy collapsed into his chair. "Okay. So, she first hit it big in the seventies with these floral dresses with strong Victorian influence. Lots of lace and taffeta and full skirts. She hit the right price point too—girls in the 'burbs could afford them for prom and other special occasions. Eventually she branched out into men's fashion, and she got away with selling retro looks even in the eighties and early nineties when everyone else was doing those godawful neons and boxy blazers and acid-washed jeans." He shuddered.
"The eighties were a long time ago." Romeo still looked puzzled.
"Right. But she evolved. Managed to keep her brand strong right through grunge and then hit it even bigger with goth. She was doing jewelry and cosmetics and fabrics and furniture. She became a lifestyle brand."
"She had a resort in Vermont," Lauren chimed in. "And a line of interior paint colors."
Romeo didn't look impressed. "You're using a lot of past tense here."
Teddy slumped melodramatically. "She's…moved on to another plane."
"She's dead?" Those delicate eyebrows shot upward.
"If she were dead she couldn't really offer to back us, could she? Unless Lauren's been negotiating via Ouija board."
Lauren shook her head emphatically. "Nope. I never do business with the deceased. You can't trust 'em."
Repositioning himself in his seat, Teddy suspected this might be the strangest workplace conversation he'd engaged in. This year, anyway. "She's stepped away from most of what she used to do. Sort of retired. In fact, she's a bit of a recluse nowadays. But she remains a grande dame of fashion, a doyenne, and she pops up every now and then to put her seal of approval on something she especially likes. And when she does, everybody suddenly has to have it. Last year it was brightly colored vegan snakeskin boots with kitten heels."
"Kittens?"
Teddy groaned and was thankful that Lauren stepped in. "Don't worry about it, Ro. Take my word for it: she's still a huge big deal. And if she backs us, we'll also be a huge big deal. No layoffs. Capital for future projects."
Although Romeo didn't look nearly as excited as Teddy felt, he asked a pertinent question. "Okay. But why do you need us? Money's Imani's gig."
Teddy had become so caught up in the whole idea of Joyce Alexander, he'd forgotten that Lauren needed something from them. He cocked his head and waited.
Excerpt. © Reprinted by permission. All rights reserved.
Book Info:
Some people search their whole lives to find love. He just wants to avoid it.
Teddy Spenser spends his days selling design ideas to higher-ups, living or dying on each new pitch. Stodgy engineer types like Romeo Blue, his nemesis—if you can call someone who barely talks to you a nemesis—are a necessary evil. A cute necessary evil.
Working together is bad enough, but when their boss puts them both on a new high-stakes project, "working together" suddenly means:
• sitting uncomfortably close on the same plane,
• staying in the same hotel room—with only one bed—and
• spending every waking minute together.
Turns out Mr. Starched Shirt has some hidden depths, and it's getting harder to ignore the spark Teddy feels with every brush of their hands, with every knowing look. He might not have been looking for this connection with Romeo, but will he ever be ready to let him go?
Carina Adores is home to highly romantic contemporary love stories featuring beloved romance tropes, where LGBTQ+ characters find their happily-ever-afters.
Book Links: Amazon | B&N | iTunes | Kobo | Google |
 
 
Meet the Author:
Kim Fielding is the bestselling author of numerous m/m romance novels, novellas, and short stories. Like Kim herself, her work is eclectic, spanning genres such as contemporary, fantasy, paranormal, and historical. Her stories are set in alternate worlds, in 15th century Bosnia, in modern-day Oregon. Her heroes are hipster architect werewolves, housekeepers, maimed giants, and conflicted graduate students. They're usually flawed, they often encounter terrible obstacles, but they always find love.
Kim's novel Brute was the 2013 Rainbow Award Winner for Best Gay Fantasy and tied for fourth place for Best Gay Novel.
After having migrated back and forth across the western two-thirds of the United States, Kim calls the boring part of California home. She lives there with her husband, her two daughters, and her day job as a university professor, but escapes as often as possible via car, train, plane, or boat. This may explain why her characters often seem to be in transit as well. She dreams of traveling and writing full-time.
Website | Facebook | Twitter | Instagram | GoodReads |
Related