Not My Match by Ilsa Madden-Mills: After a fire burns down her place innocent Giselle Riley finds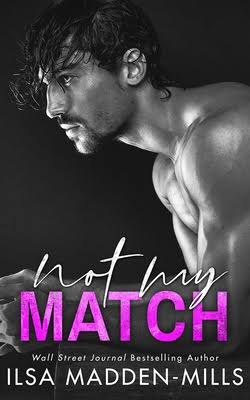 herself sharing a place with non other than hot shot professional football player Devon Walsh. Having her home burnt down was not the only problem Giselle had on her hands, it would seem that she just has the worst luck with dating!
Devon has been warned off trying anything with the sweet Giselle by teammate and friend Jack, but he just cant help but feel drawn to the beautiful blonde. With the two spending more and more time together now being roomies Devon begins to find it increasingly difficult to hide his attraction to Giselle, so what better way to hide it than to offer to set her up on dates with other guys. What was supposed to help create distance between the two of them only seems to draw them closer together, with his plan proving to backfire on himself what will happen between Devon and Giselle?
Ok right of the bat we have to say yes Giselle is not the innocent little miss that she is portrayed to be but her past aside I think it is only fair to judge her on her book a lone. I found that she redeemed herself nicely and it was nice that we got to see a glimpse of her reasoning behind the whole fiancée debacle. I will say that I did love the chemistry between Devon and Giselle, especially once they both got onto the same page and weren't tiptoeing around each other. I loved Devon, even though he had a tough time opening up about his feelings and being vulnerable, I loved watching him get jealous watching Giselle out with other guys which finally helped push him to admit his feelings.
This friends to lovers/ sports romance was definitely one I would recommend reading, both main characters were relatable and easy to love as well as Mills really knows how to steamy up the pages!
Book Info:

Publication: January 19th 2021 | Montlake | The Game Changers #2
Homeless and heartbreakingly innocent, Giselle Riley walks into my penthouse and chaos follows.
I shouldn't have invited the girl genius to live with me, but it's clear she needs my help—not only for a place to lay her pretty blonde head but in finding real love, which she's not going to get with the crazy men she picks up online.
Too bad she's a twenty-four-year-old virgin and I'm a bad boy wide receiver. She's off limits for a hardcore player like me—and we're just friends.
Instead, I'm her matchmaking service, no matter how jealous it makes me when I tag along on her dates.
I can keep my self-control. Right? No way will I give in to everything inside me that dreams of a girl like her in my world.
I may be the best wide receiver in the country, but how could I hold on to a girl like her?

Related