How to Undo the Proud Billionaire by Joss Woods: Little did florist Brinley know when she woke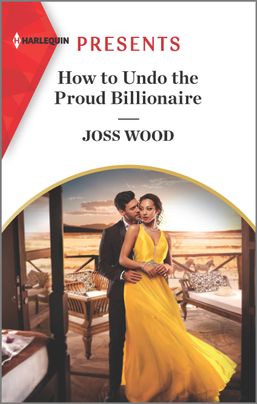 up that morning, before nightfall she would be on a luxurious private plane, jet setting her way to billionaire's Radd Tempest-Vane's stunning lodge to save the day.
How to Undo the Proud Billionaire by Joss Wood is a captivating and delightful to read. Brinley and Radd have instant connection but hurdles come thick and fast ranging from disastrous families; ungrateful and spoilt bridezilla's; forceful negotiations bordering on blackmail and of course stubbornness of Radd and sassiness of Brinley. I was hooked.
Both Radd and Brinley are very likeable and I could feel Brinley's inner emotions when she was internally pleading with Radd to do the right thing. Radd was strong and handsome and I could understand his point of view. Brinley was offered a once in a lifetime opportunity which she grabbed with both hands but it wasn't long before she realised she had everything to lose at the same time. Trying to complete the purchase of a lifetime Radd was ready to do anything except for loosing himself.
Set in the beautiful South Africa, Joss Wood does a fantastic job of describing a country so beautiful it's beyond imagination. Using familiar South African cities as references and drilling down on what is clearly experience of the beauty of the land and the South African animals and touching on the dangerous side of wandering out in a safari alone the author has left this reader in awe of the stunning beauty of this country and it very muchly enhances this story.
Joss Woods promises sexy, sparky and sassy romance and How to Undo the Proud Billionaire hits the nail on the head. The story is full of action and drama with instant chemistry and likeable characters. I'm very much looking forward to reading Radd's brother's story. He is also showing some signs of sassiness which will be all the more delightful to read when he finds his person.
Highly recommended for anyone who loves a great story packed with a lot of action and spark, set in a beautiful country and loves a fantastic happy ever after.
Book Info:

Publication: December 2020 | Harlequin Presents | The South Africa's Scandalous Billionaires Book #1
Red-hot chemistry is sparking with the boss in this sizzling South African romance by Harlequin Presents author Joss Wood. "If I kiss you,
there's no going back…"Hosting South Africa's wedding of the year at his exclusive safari lodge is Radd Tempest-Vane's ticket to restoring his family's empire. As long as he finds a new florist, fast! Brinley Riddell is the perfect candidate. She's also an immediate distraction.
For Brin, this lucrative job is her chance to be free of the family who never thought her good enough. Radd may be proud and strictly off-limits, but he's the sexiest man she's ever met! Surely one impossibly steamy encounter won't upend their simple business deal…
From Harlequin Presents: Escape to exotic locations where passion knows no bounds.
Read all of the South Africa's Scandalous Billionaires books!
Book 1: How to Undo the Proud Billionaire

Related