Ever After Always by Chloe Liese: Aiden and Freya are each others perfect match, they have been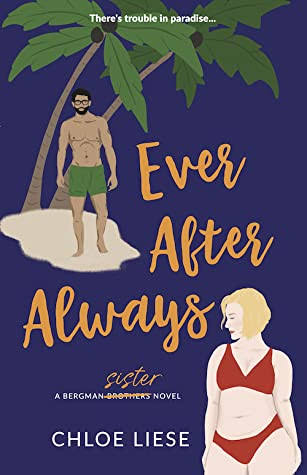 married for ten happy years but now the desire to start a family has put a strain in their marriage. Aiden wants to give his wife everything that her heart has ever desired that includes having a baby, but with the stress of trying of the baby and working overtime in order to prepare for a new addition has only added in pushing hi. Further away from Freya. With his anxiety at an all time high Aiden finds himself realizing that if he wants to save his marriage he needs to be more present and share his fears with his wife.
Freya loves Aiden, cautious planner and everything. But she is tired of having their relationship take a backseat which is what leads Freya giving Aiden the boot. With their marriage in crisis Freya and Aiden find themselves taking a trip down to Hawaii to celebrate her parents anniversary. Just maybe being surrounded by happy couples, meddlesome brothers and an exotic island will help these two find their way back to each other.
"It's a choice, a belief. I choose you, my ever after, believing our love will sustain us, always. Ever after always."
This book wrecked me! It has been a while since I have read a book that truly moved me right down to my core. Ever After Always was definitely not a light fluffy read, this book will have you tearing up while you hope for the love that Aiden and Freya share. This is the second book by Liese that I have read and boy did she knock my socks off.
"I've learned that the measure of your love isn't how "okay" you both are or how quickly you hit the curveballs that life throws at you. Love's true test, the measure of its strength, is its bravery to be honest, its willingness to face the hardest moments and say, Even though there's nothing to be done, at least I have you."
Now a marriage in crisis or second chance romance can either be hit or miss for me, in that it can either be over something superficial or the reunion can come about to fast, but this was not the case here. I absolutely loved how real Aiden and Freya's story was, it not only showed the struggles that a couple faces while trying for a baby but that both people deal with them differently. The thing that really got to me was how authentic their resolution was, it wasn't a quick fix both Aiden and Freya work through their issues together and in a healthy way.
"We can't possibly hope to always live 'happily.' But 'ever after'? That we can hope for and choose. Because 'ever after' isn't an idea. It's a person— an imperfect person who's perfect for you." Her eyes search mine as she gives me one soft, tender kiss. "You're that person, for me. You're my ever after."
Ever After Always is as authentic as you will get, this slow burn romance will have you balling your eyes but hoping to all hope that you can find a romance like this. I absolutely love the Bergman family and this book only made me love them all that more. Do yourself a favour and read this beautiful emotional rollercoaster!
Book Info:

Publication: January 12th 2021 | Pub: Chloe Liese | Bergman Brothers #3
Aiden
I've spent twelve years loving Freya Bergman and twelve lifetimes won't be enough to give her everything she deserves. She's my passionate, tender-hearted wife, my best friend, and all I want is to make her happy. But the one thing that will make her happiest is the one thing I'm not sure I can give her: a baby.
With the pressure of providing and planning for a family, my anxiety's at an all-time high, and I find myself pulling away, terrified to tell my wife how I'm struggling. But when Freya kicks me out, I realize that pulling back has turned into pushing too far. Now it's the fight of a lifetime to save our marriage.
Freya
I love my cautious, hard-working husband. He's my partner and best friend, the person I know I can count on most. Until one day I realize the man I married is nowhere to be found. Now Aiden is quiet and withdrawn, and as the months wear on, the pain of our growing distance becomes too much.
As if weathering marriage counseling wasn't enough, we're thrown together for an island getaway to celebrate my parents' many years of perfect marriage while ours is on the brink of collapse. Despite my meddling siblings and a week in each other's constant company, this trip somehow gets us working through the trouble in paradise. I just can't help worrying, when we leave paradise and return to the real world, will trouble find us again?
Ever After Always is a marriage-in-crisis, opposites-attract romance about a sensitive, fierce-loving woman and her resilient husband who has anxiety disorder. Complete with island vacation antics, a sibling prank gone wrong, and a steamy slow burn, this standalone is the third in a series of novels about a Swedish-American family of five brothers, two sisters, and their wild adventures as they each find happily ever after.

Related