Today it is my pleasure to Welcome author
Traci Hall
to HJ!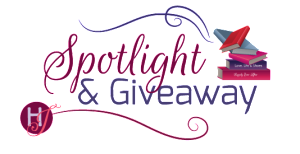 Hi Traci and welcome to HJ! We're so excited to chat with you about your new release, Just One Kiss!
 
Hello!
 
Please summarize the book a la Twitter style for the readers here: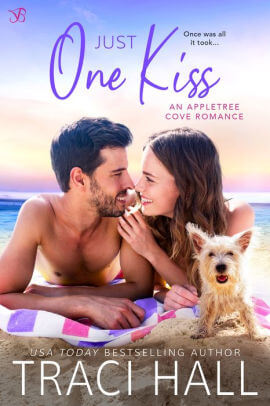 Grace and Sawyer are the definition of opposites attract. As a photographer, she's got a relaxed style, and as a dog trainer, he's all about the rules. Their chemistry makes it impossible to stay apart.
 
Please share the opening lines of this book:
Grace Sheldon hunkered down behind the top of a six-foot-tall sand dune, the scent of the Puget Sound pungent—salty air, seaweed, and rockfish. She'd been in this cramped position since four a.m. on a freelance assignment for the Kingston Bird Museum. The dark before dawn now hinted at morning, though the sun had yet to rise. She peered through her binoculars at the mama American Robin on her nest only eight feet away.
Please share a few Fun facts about this book…
Sawyer made a cameo in my previous book, In the Dog House. He was strong and about the rules, and creating his perfect opposite was so much fun. He had dogs? I gave Grace a chicken.
Sawyer falls for Grace's quirky charms because despite the glitter she is more real than anybody else he's every met
Grace is someone I would love to hang out with.
For the research in this book I watched a lot of dog training videos.
I think that Bert is my favorite dog character ever, and I've written a lot of dogs lol.
What first attracts your Hero to the Heroine and vice versa?
It is physical from the first–he's gorgeous and she is an artist. She's adorable with a kissable mouth. The first meet is a misunderstanding that is compounded when Grace works for Sawyer as a temp to help him get his new training center started. They each get a chance to see the other in a different role and understand that they have shared core values that might lead to love.
 
Using just 5 words, how would you describe Hero and Heroine's love affair?
Proven chemistry that opposites attract.
 
The First Kiss…
This kiss takes place on the beach that they both live on after Grace falls off her dock into the cold Pacific Ocean.
Without revealing too much, what is your favorite scene in the book?
I like this because it is the beginning of their misunderstandings:
Grace still had a chance to salvage her morning if she could just get her camera before the baby birds hatched. She dashed up the dune to where she'd left her binoculars. Maybe she could interest the dog in a trade.
The man flew past her on the way to the top. "Drop it, Bert."
The dog didn't listen—big surprise—but scrambled over and down again, dragging her camera like a chew toy. She heard a loud crack, and her stomach sank. What were the chances it was unbroken?
She and the man teetered off-balance on the dune—just as the sand gave way and they rolled down to the bottom. His arm slipped around her waist, his palm cradling the back of her head. He smelled like expensive spice cologne, her face and nose tucked in the warm crook of his neck and shoulder as he protected her.
They slid to a stop, his practically naked body on top of hers, his expression one of concern, then…something else. Something that made her face heat. His brown eyes bore into hers—searching, intense.
If your book was optioned for a movie, what scene would be absolutely crucial to include?
The kiss on the Ferris wheel:
When the car reached the very top, he entwined their fingers as they peered out at the vast cityscape, the lights beneath them like diamonds on black velvet.
"Magical," she breathed as she took in the vista.
He glanced at her. "Do you wish you had your camera?"
She turned slightly so they were thigh to thigh. "No." Grace glimpsed up at him with a half smile. "I want to be in this moment, just you and me."
He couldn't be more in love with Grace. It took all of his willpower to slowly lean down for a taste of her lips. Her lashes fluttered closed, mink resting on the curve of her cheek, her breaths warm and quick as her desire heightened. He could feel the race of her pulse from where he clasped her wrist.
Sawyer applied the lightest pressure from his lips to hers, and she responded without hesitation, their tongues tangling and teasing—tasting, savoring. Passion flared, and he pulled her to his lap, rocking the car.
His breath caught, and he broke free to drag air into his lungs—her eyes, dazed, focused at last, and she blinked like a kitten.
"Just one kiss, Grace, will never be enough."
Readers should read this book …
because it will make them laugh, and smile, and believe in love.
 
What are you currently working on? What other releases do you have planned?
I write in many genres and am currently working on the third Scottish Shire cozy mystery, Murder at a Scottish Social, as well as the next Salem B&B novel, co written as Traci Wilton, Mrs. Morris and the Pot of Gold. I am plotting out book 3 for Appletree Cove, as yet untitled, and I write an indie contemporary romance series, By the Sea.
 
Thanks for blogging at HJ!
Giveaway:

25 Amazon GC
To enter Giveaway: Please complete the Rafflecopter form and Post a comment to this Q:

Do you remember your first kiss? Share in the comments!
Excerpt from Just One Kiss:
Canoeing around the right side of the bay brought her toward the ocean's stronger currents. She thought of going back but wasn't ready yet. Then to her left surged a sporty lime-green kayak around the curve.
Sawyer, shirtless, as God obviously intended, stroked firmly across the water. He stilled when he saw her. They were the only two people within sight on the bay, and they stared at one another. Should they pretend not to see each other?
She lifted her hand in a wave.
He raised his paddle in answer. Would he continue home? Grace held her breath, on the edge of her seat as she waited. He'd been upset with her about Bert on Friday, and she hoped he wasn't still.
Sawyer maneuvered his kayak around and crossed the water toward her. She released a whoosh of air from her lungs. The man was beauty in motion. His broad shoulders flexed with each stroke. She wanted to feel the play of his taut skin beneath her fingers.
"Morning," she said in a husky tone as he brought his kayak mere inches from the side of her canoe. She sat higher in the water than he did, which gave her a view of his thigh muscles bunched in his short trunks. Dark hair swirled from thigh to calf.
"Morning." He raised his gaze to hers, rich brown eyes framed with thick lashes beneath heavy brows. Strong nose. Full mouth.
Grace folded her hands over the edge of the bench seat, anchoring herself from the attraction she felt for him. Her belly fluttered. "How was the barbecue Friday night?" She'd imagined them having fun.
"Good. Rudy makes a mean cheeseburger." The kayak bobbed when he shifted, though he didn't look away. "How was your date?"
Date? Oh—right. She'd told him she had a date when she'd planned on cleaning the chicken coop and gotten the dream call from Griffin about the coffee table book, but then reality had crashed in. Grace shrugged. "I spent the evening with Lottie and Violet instead."
His brow lifted. "Why?"
It was just the two of them on quiet water, the reflection of the early morning sky the same charcoal as the bay. Tranquil. Friday night had been the exact opposite as she'd held her friend's hand while Lottie cried.
"It was an ice cream emergency," she said. "Do you ever train your dogs to work with autistic children?"
"Not personally, but I know they can be helpful. The dog senses when someone's over-stimulated and by placing pressure on their owner can change their focus before the situation escalates." He leaned back, his abdomen a wealth of muscle, his expression contemplative.
That sounded knowledgeable. Her gaze dropped to the scar near his rib. "I know you started with Kita and Diamond in a shipping container, but how did you get into dog training in the first place?"
"I began by rehabilitating fight dogs." Sawyer, relaxed in the kayak, tilted his head. "That led to training purebreds. The books and videos I made were a way to reach more people with very basic training guidelines." He must have noticed her eyeing his toned stomach and tapped the jagged flesh. "My neighborhood in L.A. was a tough place to grow up. So I joined the Marines, and when I got out, a few of my friends—ex-friends—were fighting pit bulls. I scraped some money together and bought Diamond and Kita from them. The rest, as they say, is history."
She moved to get more comfortable on the wood bench of her canoe, the water giving a slight sway. "And your wound?"
His body tensed. "Let's just say we had a hard time agreeing on the price of the dogs."
Grace was used to compromise and negotiation, not physical violence, and she shivered at the harshness in his voice. "Did you fight them?"
Sawyer ran his hand over the scar. "Yeah, and it was worth it. I rescued quite a few dogs from the fighting rings…but I'm starting to think I lost something when I became famous." He ducked his head as if afraid to let down his guard, and her heart constricted.
She lightly touched his warm knee. "What did you lose?"
His leg jumped, and she brought her hand to her lap. Grace liked touching him, but she shouldn't. Shouldn't do it. Definitely shouldn't like it.
Sawyer clenched his jaw. "I wanted to save the dogs for the sake of the dogs. Not the money."
Grace had been raised to believe that money should never be life's purpose. She was learning the hard way that cold, hard cash mattered. "Lottie says she saw your pilot for the cable show and it was pretty good."
He actually blushed, and schoolgirl butterflies took wing in her stomach. How on earth was she supposed to keep this Sawyer, not arrogant but open, at arm's length?
"It's just a show," he said, dipping the kayak paddle in the water.
"I really want to see it now," Grace teased.
Sawyer raised his eyes. Warm brown hues that sent the butterflies into a tornado spin. "I'm more real here, trust me."
Excerpts. © Reprinted by permission. All rights reserved.
 
 
Book Info:
Free-spirited Grace Sheldon is used to living on a tight budget as a freelance photographer. But nothing short of a miracle could produce the thirty thousand dollars she owes on the house she's inherited. Without steady employment, the bank refuses to give her a loan. Working a temp job won't give her nearly enough, but she'll take any little bit she can get until she figures out a solution. Her first day, though, she realizes this is no ordinary office—and her handsome new boss is no ordinary man.
After Sawyer Rivera's well-planned career in Seattle officially imploded all he's looking for is a small beach town where he can open a dog training facility and start a simple life. Except, his new office assistant is anything but. Grace is carefree, artsy, and doesn't know a thing about dogs. The woman has pet chickens! She's also funny, kind, and the best part of his day.
Grace is his complete opposite—and completely refreshing. But when her month of temp work is over, she could disappear from his life for good. Sawyer realizes he has just one chance to try to change their fate.
Book Links: Amazon | B&N | iTunes | Goodreads |
 
 
Meet the Author:
From contemporary seaside romances to cozy mysteries, USA Today bestselling author Traci Hall writes stories that captivate her readers. As a hybrid author with over fifty published works, Ms. Hall has a favorite story for everyone.
Mystery lovers, be on the lookout for her Salem B&B Mystery series, co-written as Traci Wilton, and her Scottish Shire series, which takes place in the seaside town of Nairn, as Traci Hall. Whether it's her ever popular By the Sea series, the next Appletree Cove sweet romance, or a fun who-done-it, Traci finds her inspiration in sunny South Florida, by living right near the ocean.
Website | Facebook | Twitter | | Instagram |
 
 
 
Related