Wedding Date with the Billionaire by Andrea Bolter: Erin Barclay has always lived a rather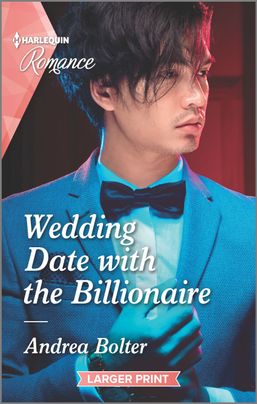 luxurious life in the Pacific Northwest. Her every moment has been controlled by her parents, who care more about pedigree and "old money" than love. They have even made her life utterly miserable lately after convincing her to have a relationship with a man who dumped her and made her the subject of horrible gossip. She thought a weekend away being a maid of honor at a luxury destination wedding would help, but she hears gossip about herself everywhere she turns. On top of that, her domineering mother is trying to fix her up with someone "worthy", even though it has only been three weeks since the disastrous break-up.
Erin is also nervous about seeing Kento Yamamoto who is to be the best man at the wedding. They had an amazing romance during their college years that ended in heartbreak.
Kento had been hardworking in the past and his parents sacrificed for him to go to a private school. Kento achieved success, even after other students bullied and made fun of him because he was Asian and poor. After he graduated college and his tragic split with Erin, Kento moved to Japan and went on to become a billionaire in the tech field.
To avoid the constant matchmaking, gossip and women throwing themselves at Kento, Erin and Kento decide they will pretend they have gotten back together. Will their faux romance end after the wedding weekend or can the flames be fanned back to life?
It was wonderful that the author used an Asian hero. It is encouraging that more romance stories have become very diverse. It is also great that more protagonists are not just twenty-somethings, but have more life experience.
Kento's tale is truly one of pursuing your dreams. He does have to let the shell he has built around his heart crack. Erin's growth as a woman has been stunted by her overbearing parents. That seems realistic because too many people let their families have too much control and it's hard to break a cycle.
Erin's parents and many of the people at the wedding are really despicable. They are the type that live on malicious gossip and only care for themselves.
I knew this story was going to have some serious sizzle going on from Kento's solo shower scene early on. He is a virile man comfortable with his masculinity, yet with great depths of gentleness.
For some reading that will warm up a chilly night, grab a copy of Wedding Date with the Billionaire.
 
Book Info:

Publication: January 1, 2021 | Harlequin Romance |
Two worlds collide…
…at the altar!
Best man Kento Yamamoto and maid of honor Erin Barclay are thrown together at a luxury wedding years after their heartbreaking split. Now the fire between them is set ablaze once more. Tech billionaire Kento's no longer the penniless student Erin's controlling parents snubbed. Can she finally find the courage to break free from their hold? And could a cunning recoupling of convenience pave the way to something unexpected but breathtakingly real?

Related