Gimme S'more by Erin Nicholas is the sixth book in her Hot Cakes series. I have been really looking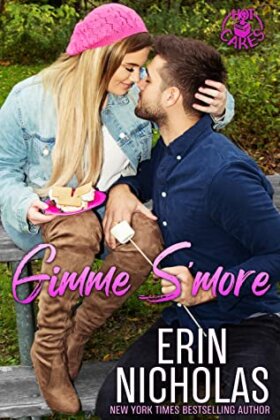 forward to Piper and Ollie's story.
Piper Barry is in love with Oliver Caprinelli. Yes, she is his assistant at Fluke Inc so technically he is her boss, but that hasn't prevented her from falling in love with him. She stated falling in love with him two years ago. Well, maybe even before that. She had to tell him how she feels. It was Ollie's discussion about buying a soda company and naming one of the products Unicorn Snot that set the ball rolling. Piper had heard enough. That idea was pure craziness. She handed Ollie her resignation letter and then let him know she loved him. Then she left. Yay Piper! I love your bravado. It just gets better from here.
Oliver "Ollie" Caprinelli is a genius. It was his vision and imagination that enabled him and his four college friends to develop the video game he and his friends and now business partners ended up selling to Plus Gaming. This made them all millionaires. Ollie and his partners at Fluke Inc. then went on to purchase Hot Cakes Bakery in Appleby, Iowa. All the other guys have found the women they love and have other business interests. Ollie owns part of the gaming company so still does development of new episodes for the game, Warriors of Easton. But now Piper has left as his assistant and Ollie can't seem to concentrate and get his work done. He can't believe Piper said she loves him. He doesn't think he is good enough for Piper. Maybe he can convince her not to love him and she will come back as his assistant. It seems he needs her if he is going to get any work done. He's even desperate enough to agree to help Piper set up a kid's camp which is her present project. She has to come back into his life.
I have been pleasantly surprised by this storyline. Piper is determined to make Ollie understand she loves him just the way he is, especially after she realizes that she has been holding him back from his full potential. Due to some of Piper's talks and actions Ollie realizes he needs to be himself and let his creativity flow. I really like these two as a couple. I also liked the scene where Ollie goes out to get condoms. Where he ends up getting them made for a good laugh.
This is a great series. I highly recommend taking a trip to Appleby, Iowa and enjoying all the books in the series.
Book Info:

Publication: January 19th 2021 | EN Fiction, Inc. | Hot Cakes #6
A friends-to-lovers romance that will make you melt.
Oliver's a dreamer who is always ready for the next big adventure.
Piper's the steady one who keeps his feet on the ground.
He's wildly successful, thanks to her always being there to catch him when he leaps before he looks. But she wants more. While he's as clueless as ever.
So she just gave her two weeks notice.
Ollie doesn't know how he'll survive without Piper. So for the next two weeks, he'll be sticking to her like the marshmallows on the s'mores she loves so much.
But does he want her as his assistant… or is there a sweeter spot in his life for the woman who's always had his back–and possibly even his heart?

Related