In The Way You Hold Me by Elle Wright, Sky Palmer is stepping into her dream job at Pure Talent,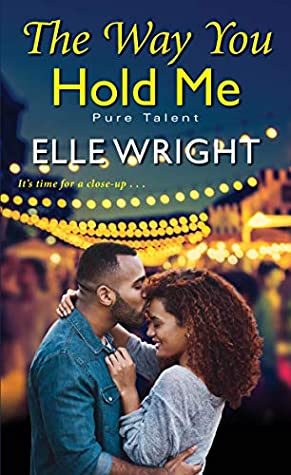 but she feels something is lacking. When she has to do damage control for a Hollywood actress, she's forced to work with the crisis attorney for her client's husband, Garrett Steele, who also happens to be her ex. Years earlier she let Garrett go when he needed her the most, but the feelings never died. All Garrett wants is a second chance, despite the fact Skye was the one who left him. Will Skye be able to work through her issues and find satisfaction with not only her profession, but with Garrett as well?
I liked Skye for the most part. Her reasoning for originally leaving Garrett was understandable and I could respect the fact that she put what was best for him and his sister before her own feelings. She has a habit of overthinking things and takes steps to work on that. What brought her down a little for me was that she was rude to Garrett in the beginning of this book and in the previous book as well. She acted like Garrett was the one who broke up with her, not the other way around. She has misplaced feelings of anger that Garrett didn't deserve to feel the brunt of.
I felt for Garrett. He has a heart-wrenching past and had to step up and raise his younger sister. I love the bond they had with one another and how close they were. He's a good guy who doesn't hesitate to give Skye another chance and he tries to understand where she's coming from.
Readers who have read the first book in the series, The Way You Tempt Me, will get to catch up with main the characters from that book, Xavier and Zara, as they plan their wedding. If you haven't read the first book don't worry, you can still jump in and read this one; it works well as a standalone.
The Way You Hold Me is a story about second chances and family, which will have readers rooting for Garrett and Skye to find their happily-ever-after. If you enjoy second chance stories, this book is for you.
 
Book Info:

Publication: December 1, 2020 | Dafina | Pure Talent #2
Skye Palmer puts out the biggest publicity fires for Pure Talent's top names. But when an A-list Hollywood actress's dream marriage proves anything but, Skye has to do nightmare damage control. Even worse, her ex-lover, attorney Garrett Steele, is crisis manager for her client's powerful director husband. Now for Skye and Garrett, containing this disaster—and keeping their reignited passion in check—may be mission impossible . . .
Troubleshooting is what Garrett and his elite firm do best. But saving his client from
career-killing bad news means battling the one woman Garrett's never gotten over. And when joining forces with Skye leads to one steamy night together—followed by another and another—both their reputations are on the line. Yet now that they've turned up the heat, can they put a new spin on their future?

Related