Rookie Instincts by Carol Ericson is the first book in this author's new series, Tactical Crime Division: Traverse City.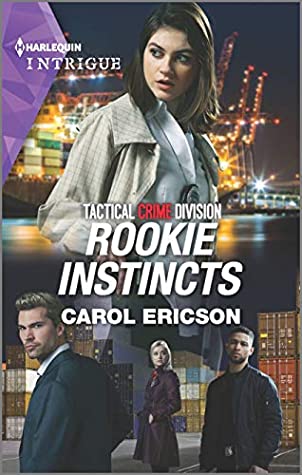 Aria Calletti is a brand new member of the FBI Tactical Crime Unit(TCU). Her first day on the job the unit was handed a case of two murdered women who looked a lot alike and had ID's with the same name. They also had a bag of Dance Fever (a street name for Fentanyl) on them. Looks like a major drug ring operating in Port Huron, Michigan. The strange thing in this case was that a baby was found next to the second murder victim. Someone called 911 about a baby that looked abandoned. Aria and another member of her team drove to the location where the second body was found. They found a piece of evidence the police seemed to have missed and turned that evidence over to Detective Massey of the Port Huron PD. This cooperation led to Detective Massey letting them know about a man who filed a Missing Person report for his sister and her baby. That man turned out to be Grayson Rhodes. He is undercover in Port Huron posing as a dock worker while searching for his sister and nephew because his sister mentioned being in that area the last time he heard from her. Aria and Grayson started spending time together because Grayson wasn't giving up his search even though the FBI had been called in. Aria knew she shouldn't get involved with Grayson while investigating the case but the attraction was too strong to ignore.
Grayson Rhodes is a wealthy, successful business owner from Detroit. His sister and nephew never showed up for Thanksgiving dinner and even though Chloe was a drug addict, if she told him she was coming to visit, she always did. Something was wrong. That's how Grayson ended up as an undercover dock worker in Port Huron. He hoped to get information about Chloe since Port Huron was the last place Chloe mentioned to him. He filed a Missing Person report in the hope the police could find Chloe and his nephew Danny. Because of the report Grayson met Aria Calletti. They worked well together and his being on the docks brought valuable information furthering the murder investigation. Now he may have lost his sister but at least the tragedy brought him to meet and fall for Aria.
This story is a wonderful introduction to the members of TCD. It gives some background for the men and women who comprise this unit. I'm sure they will all have stories as intriguing as newest member Aria's. This storyline held my attention and the conflict and resolution were well plotted out. Super beginning to this series!
Book Info:

Publication: November 1st 2020 | Harlequin Intrigue | Tactical Crime Division: Traverse City #1
Two women dead…with the same ID?
Time to call the Tactical Crime Division.
New TCD team member Aria Calletti is determined to find out why women are turning up dead—especially since an infant was left at the most recent crime scene. Fortunately for the TCD's newest operative, the baby's uncle, Grayson Rhodes, has sacrificed everything to discover the truth following the disappearance of his half sister. But can a civilian-turned-undercover-dockworker and a brand-new agent take down a formidable drug kingpin?

Related