Colton 911: Agent By Her Side by Deborah Fletcher Mello is book #4 in the Harlequin series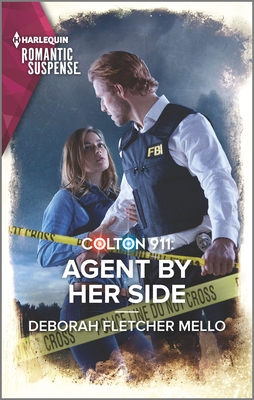 Colton 911: Grand Rapids.
Kiely Colton works as a private investigator in the family business, Colton Investigations. She sometimes helps out the city police and the FBI. Kiely and her family have been heavily involved in the investigation into a company called RevitaYou. This company has been selling a product that is supposed to have the person using it become more youthful. Due to the fact the poison ricin is used in manufacturing RevitaYou people have been dying. On top of this the officials in this company have been scamming investors. The company officials have taken the money and run.
Kiely is working the tip line for this case for the FBI when she gets what she feels is a credible tip about the whereabouts of Wes Matthews, one of the company officials. The agent in charge of this investigation, Cooper Winston doesn't agree with Kiely that the tip is reliable. He insists on being Kiely's backup though when she informs him that she is going to check out the tip. Before they can get out of the FBI building Cooper gets a call from his toddler son Alfi's daycare that Alfie has been kidnapped. That takes priority. After spending time at the daycare and with no clues as to where Alfi is Kiely and Cooper decide to check out the location the tipster gave them. When they get there they hear a child crying and Cooper heads to the door. Things don't go 100% as planned there. Neither Kiely or Cooper feel confident that Alfi will stay safe when the woman at this location eludes the police.
Special Agent Cooper Winston is a single dad. His wife Sara died giving birth to their son Alfi. His son means the world to Cooper. When he is kidnapped Cooper is devastated. Having Kiely Colton there with him giving support makes a big difference. Cooper never thought he would get involved with another woman after his wife's death. There's something special about Kiely though. Plus Alfi loves her and his son has never warmed up to anyone like he has with Kiely. They both are working hard to solve the case and keep Alfi safe.
I have really been enjoying this series. This book isn't my favorite but it is a nice addition to the series. It has an interesting plot. Alfi is a really cute kid. The overall arc of solving the RevitaYou case progresses in this book. There is a really big surprise in this one. I am looking forward to the next book in the series Colton 911: In Hot Pursuit by Geri Krotow.
Book Info:

Publication: October 13th 2020 | Harlequin Romantic Suspense | Colton 911: Grand Rapids #4
She'll do anything to track a killer
And he'll do anything to keep her in line…
If PI Kiely Colton must work with FBI agent Cooper Winston, she will. But to solve a cold case, she won't change her break-the-rules style to accommodate the single father's by-the-book principles. As the investigation progresses, Kiely finds herself inexplicably attracted to her exacting partner and enchanted by his adorable son. Will a ruthless killer put an end to their possible future before it really begins?

Related