Tempt the Dragon by A.C. Arthur finds dragon shifter Aiken French face-to-face once again with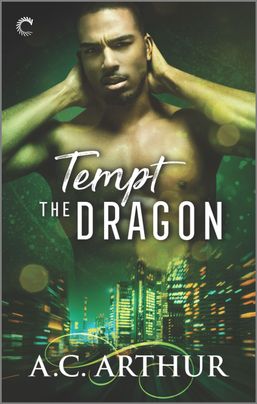 bounty hunter Mel Kane, his former partner and lover. Mel, also a dragon shifter, has denied that part of her since her parents disappeared when she was four. Eighty years ago, she left Aiken behind because he wanted her embrace her dragon nature. Now the pair has to work side-by-side to prevent the vampires from rising the ancient vampires and starting a war. It not only forces Mel to have to deal with Aiken and their unresolved feelings, but it also forces her to work with other dragons. Will they help Mel embrace her nature, or will she walk away from Aiken once again when their mission is completed?
This is the third book in The Legion series, but it's the first one I've read. There were some aspects that I feel would have been clearer if I had read the other books, including one villain that is spoken about and makes a brief appearance. I felt like I was missing the background information about that, so I would recommend reading the series in order.
There's plenty of action as Aiken and Mel race to stop the vampires. I enjoyed that aspect of the story. I also liked the fact that the romance isn't rushed; Mel and Aiken take the time to rebuild their relationship. Aiken pushes Mel to embrace her nature, but he's not overly pushy about it.
My only real issue with the story was Mel herself. She denies her dragon side because her parents never told her about it, nor did the dragons step in to teach her when she was a child. She was four when her parents disappeared; I found it hard to believe she would hold that against them. Even if they did tell her, would she really have remembered anything about it being that young? She also kept repeating that she wasn't going to be "owned" by Aiken and his dragon, but Aiken never wanted to own her. Yes, his dragon chose her as his, but he had no desire to take over Mel's life. He loved her the way she was. If she took the time to listen to him, to let him explain how the dragon selection actually worked, maybe they wouldn't have separated for eighty years. Instead, she was overly stubborn, refused to hear any of it, and they lost all that time together. I found myself frustrated with her because she kept making all these assumptions that she would know were wrong if she would have given Aiden a chance to explain the nature of the dragons.
Despite my issues with Mel, I enjoyed the book overall. Tempt the Dragon is well-written, with an interesting storyline and a good balance of action and romance. This book would be for readers who enjoy paranormal romances, especially those involving dragons and vampires, as well as for those who enjoy second-chance romances.
Book Info:

Publication: January 11, 2021 | Carina Press | The Legion #3
After the love of his life walked away, powerful half-human, half-dragon Aiken French isn't about to risk his emotions on a woman ever again. It doesn't matter that his Drakon beast wholeheartedly disagrees, or that his powers of telekinesis are suffering as a result. He can't live through that kind of heartbreak again. But with a long-buried vampire stirring, he might not have a choice.
Bounty hunter Mel Kane never wanted a preordained future—she will be in control of her life, not some Drakon beast who supposedly selects her mate for her. She had to leave, even if it just about killed her. But if she's going to decide her own future, she'll need to stay alive long enough to see it, which means trusting Aiken with her life, even though she couldn't trust him with her heart.
With war on the horizon, Aiken and Mel must track down the rogue vampire behind it all. Temptation leads them back into each other's arms, but even fate isn't a sure thing when faced with a legion of the undead determined to kill them all.

Related