Her Playboy Crush by Nicola Marsh: Polly has always had a thing for her older brothers best friend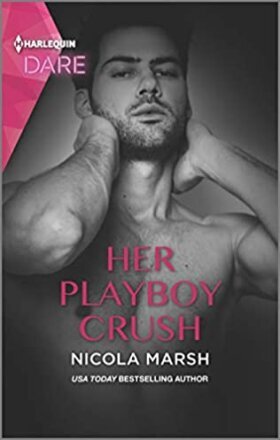 Ryder, the only problem being playboy ladies man Ryder Beale has never paid her any attention that is until now. With Ryder back in town it would seem that something has changed between the bad boy and the nerdy statistician.
Ryder needs a fix and he knows just the girl for the job, only problem being Ryder did not factor in Polly having grown into such an alluring lady. With both of them going into this arrangement with their eyes open will they be able to keep their hearts out of their deal as things between them heat up?
This book was the perfect steamy read! I am a huge fan of Nicola Marsh books and Her Playboy Crush has just hit my top five favorites. The brothers best friend trope is a favorite of mine and Marsh has truly done it justice with this cute romance. I loved the chemistry and pull between these two characters.
As with all her books Marsh has checked all the boxes with Her Playboy Crush. I would definitely recommend reading this steamy friends to lovers romance.
Book Info:

Publication: January 1st 2021 | Harlequin Dare |
Ryder's back in town. The four words that make adorably nerdy statistician Polly Scanlon's heart leap. Ryder Beale—celebrity, motivational guru extraordinaire, six-plus feet of delectable, hard-bodied sexiness, playboy player…and her brother's best friend. Between that and the models he dates, Polly doesn't stand a chance.
Until now.
Something's changed. The air between them is charged with electricity that zips along Polly's skin, making everything tingle. Naughty bits included. But Ryder has a business arrangement in mind. After all, they can help each other out…and then get unbelievably wicked together between the sheets.
Every statistician knows the odds, and Polly's no exception. Ryder's never been the guy to "date" or settle down. Ever. He's always looking for his next challenge and that's always been who he is. Polly went into this eyes wide open. But keeping her heart closed is a completely different equation…

Related