In Two's Company by Jill Mansell, The dynamic Mandeville family has become something like royalty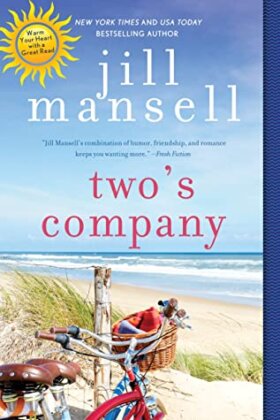 in England over the years. From Cass's well-known radio show to her husband Jack's career in journalism, that was enough to set them on the map. But even their three children are go-getters. Cleo is the supermodel who is outspoken and utterly loyal to her family. Sean, the only male sibling, is a comedian on the cusp of a huge breakthrough in his career. And Sophie, the youngest, is the bohemian child, using her genius-level smarts to try to help the less fortunate in the world.
'How, he wondered, was it possible to feel so happy and so racked with guilt at the same time?'
Cass and the rest of the Mandevilles never thought anything could shake the foundation of their rock solid family. But Jack's fortieth birthday party was the catalyst to change everything–and not for the better. All it took was one reporter, a pretty young woman named Imogen, to have Cass and Jack doubting how strong their relationship is after a couple decades together. That's not even counting the havoc it creates for their children. With everything thrown into the air and their lives all completely shaken up, it will take a lot of soul-searching, some pettiness, some laughs and tears, for them to finally find their way through it all.
'Cass found herself feeling more and more alone. Her family was drifting away from her, and for the first time in her life, the radio show seemed more of a chore than an adventure.'
A topsy-turvy story where a family who seems to have it all gets knocked sideways, Jill Mansell's reissue from 1996, Two's Company, has all of the laughs, heartbreak, crazy-fun characters, and quick storyline I expect from her work.
'The Mandevilles were celebrities, each of them famous in their own right, each one breathtakingly glamorous.'
Trigger Warning: View Spoiler »Cheating…lots of cheating. Abduction. Murder/suicide. « Hide Spoiler
Readers will need to keep in mind that this book was released in the mid-nineties. So some of the pop culture references as well as what was considered taboo and politically incorrect has changed a fair bit since then. The storyline itself and the multitude of characters, however, held up nicely. You can tell from the book blurb that long-time married couple Jack and Cass came up against some big problems in their relationship in the form of a younger woman, Imogen, who creates havoc from the start. And you can guess where it led–quite honestly, much to my chagrin.
I will admit that where things took a turn for the worse between Cass and Jack with Imogen in the mix, I had a rough go of the first half of the book. I didn't like Imogen. At all. Still didn't by the end of the book! And I was mad at Jack for a good chunk of the time, too. It was actually the rest of the female cast that I was drawn to: Cass, Pandora, Cleo, and Sophie. They were the comic relief with their shenanigans and the voice (well, mostly) of reason in a story where there was a lot of bed-hopping and deception going on.
Entertaining antics and shameful decisions created a raw picture of what marriage, friendship, and families can endure over time. Two's Company might have been early on in Jill Mansell's career, but her distinctive voice shines through loud and clear.
Book Info:

Publication: Published January 5th 2021 (first published January 1st 1996) | Sourcebooks Landmark |
Jack and Cass Mandeville are a dream couple, ridiculously happy together and successful to boot – Jack as a journalist and Cass with her own hugely popular radio show. Indeed, almost every member of the Mandeville family is famous in their own right: from stunning Cleo, a supermodel with attitude, to Sean, the rising star of the comedy circuit. Incredibly good-looking and likeable, the family have captured the hearts of the nation – and the nation's press. But on the day that Jack hits the big 40 – the same day that a redhead called Imogen turns up to interview Jack and Cass for Hi! magazine – their proverbial bubble is about to burst…

Related