In The Villain by L.J. Shen, Persephone Penrose is in a bind. A big, dangerous one, thanks to her no-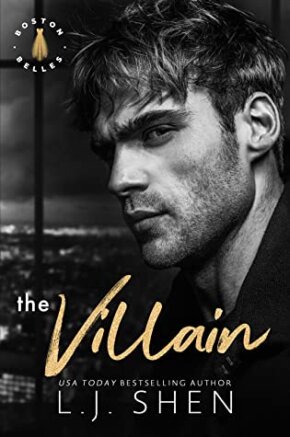 good soon-to-be-ex husband. Either she ponies up a hundred thousand dollars or his bookies will find a way to get their money's worth out of her. And that's a road Persephone doesn't want to travel. Her only real option? Ask CEO Cillian Fitzpatrick for the cash. He's rich, has alphahole tendencies, is utterly gorgeous, and was once the man of her dreams. But after saving her life once already years ago, Persephone isn't sure Cillian will agree to help out.
'Expectations from a man who swore to never love you were a dangerous thing.'
Cillian isn't overly receptive to Persephone's plight. Not a shock, to be honest. But at the final hour, he comes through with the cash–and a few conditions she'll have to meet. He calls it protecting his investment. She calls it ludicrous. There's no way Persephone and Cillian will work as a couple. Even one just for outward appearances. But as they spend time together, their attraction can't be overlooked. And neither can Persephone's feelings for Cillian. Once she finds out the true reason behind his uncaring manner, though, she'll do anything to get him to finally admit how much he feels for her.
"I can give you everything your heart desires, Persephone. Jewelry, lavish vacations, every Hermes bag ever produced… But I can't give you love. Do not ask me for something I am incapable of delivering."
An emotionally-charged romance with a hero who straddled the line between being almost *too* overbearing to then being, dare I say, almost kind hearted, The Villain definitely threw a few surprises at this reader.
"You're not my Prince Charming," I blurted out… "You're the villain."
"But what are villains if not misunderstood heroes?"
I'm still relatively newish to L.J. Shen's work, but I'm sensing a theme with her characters–and it happens to be one I don't mind at all. The heroes, like with Cillian in this book, tend to be damaged and just a tad shy of being completely broken. It pulls at my heartstrings every time. I love how Shen takes an almost unlikable guy and shows us how he got to that point in his life–the things that shaped him into who he is–and then his actions and his attitude makes complete sense.
Cillian was a prime example of this. He might have come from a life of privilege, but there was a world of responsibility heaped onto his shoulders at a young age, being the first-born son. Paired up with a health issue, it was the recipe for Cillian to become cold and seemingly uncaring. Then Persephone crashed into his life. And boy didn't it make everything so much more complicated for him. Aside from watching Cillian open up emotionally (eventually), my favorite part was his dry sense of humor. I outright laughed several times with his inner monologues and the conversations with his friends. Sarcasm and cynical quips worked very well for Cillian. lol
Then there's Persephone. While Cillian probably underwent the most drastic changes personally, she also saw her fair share of growth as she came to terms with who she really was. It was fun seeing Persephone go from a rather quiet, do-gooder personality to then stand up for herself and put Cillian, and a few choice others, in their place. I think Persephone expected a lot out of Cillian at times–maybe more than he was emotionally capable of then–but overall she was a heroine I could cheer on who had her man's best interest at heart, that's for sure.
Leave it to L.J. Shen to make me fall for yet another one of her irresistible bad boys. Lots of heat, some spot-on humor, and a whole lot of heart made The Villain a total pleasure to read.
Book Info:

Publication: Published December 17th 2020 | Pub: L.J. Shen | Boston Belles #2
Cruel. Coldblooded. Hades in a Brioni suit.
Cillian Fitzpatrick has been dubbed every wicked thing on planet earth.
To the media, he is The Villain.
To me, he is the man who (reluctantly) saved my life.
Now I need him to do me another, small solid.
Bail me out of the mess my husband got me into.
What's a hundred grand to one of the wealthiest men in America, anyway?
Only Cillian doesn't hand out free favors.
The price for the money, it turns out, is my freedom.
Now I'm the eldest Fitzpatrick brother's little toy.
To play, to mold, to break.
Too bad Cillian forgot one, tiny detail.
Persephone wasn't only the goddess of spring; she was also the queen of death.
He thinks I'll buckle under the weight of his mind games.
He is about to find out the most lethal poison is also the sweetest.

Related