Love at the Icicle Cafe by Denise Wheatley: Mina is working hard to make partner in her law firm.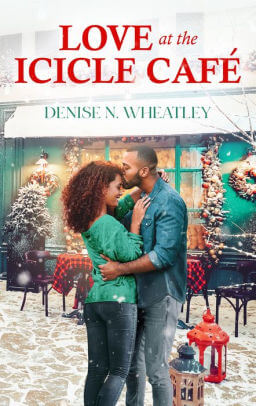 Her parents are retired and want to sell their special Icicle Cafe' in Gosberg, Germany, in agreement with their partners, the Dawsons. In the past Mina had helped her mother bake at the cafe'. After Mina's father has an accident, her parents beg her to go to Gosberg to represent them with a final farewell at the annual Icicle Fest before the cafe' is sold to a hotel chain. It is definite bad timing for Mina, but she owes her family and it should be a quick whirlwind visit.
After she arrives in Gosberg, Mina finds out Scott Dawson has really made the cafe' into a stellar restaurant and does not agree with his parents' decision to sell. He doesn't have the money himself to outbid the hotel people, but hopes for some outside help.
Mina and Scott were childhood friends, but it seems they each have different goals now. Can Scott get her to help with the Icicle Fest and warm up her slightly icy feelings.
The winter setting in this novel is just glorious. All the food mentioned made me drool. In a world of chain and cookie-cutter restaurants, the thought of one like the Icicle Cafe' is charming.
Mina is portrayed as a sort of Type A personality. In a firm dominated by males, she always seems to have to work twice as hard. She can't even take a few days away without being hounded.
Scott has worked very hard, too, but only to build his family business and make it his own. The author does portray him as very warmhearted, too, because he is so kind to his employees and the townspeople .
The sparks between Mina and Scott are slow to fly. Theirs is a sweet, slow romance. Enjoy their story with a nice cup of cocoa in a cozy spot.
Book Info:

Publication: December 29, 2020 | Tule Publishing |
Can an icicle-themed festival thaw the most unlikely hearts?
California lawyer Mina Richards spent her childhood helping her mom bake at their winter-themed café in the snowy village of Gosberg, Germany. When her retired parents want to sell The Icicle Café, Mina returns to facilitate the sale. She needs this to go right—she'll fly in, finalize the deal and fly out to rescue her once high-powered career. But faced with Scott, her childhood friend and crush who doesn't want to sell, Mina's plan quickly falls apart.
Rising chef Scott Dawson has turned The Icicle Café into a destination restaurant. His parents and their partners want to sell the café to a hotel chain, and Scott can't meet their price. When Mina arrives—more beautiful and determined than ever—he sees the possibility of a new future for the business and the town he loves. He just needs to change her mind…about more than selling the café.
When Scott asks Mina to help with the café's annual Icicle Fest, their icy relationship warms. Can these former friends find a future together in the snowy village of their past?

Related