His Blind Date Bride by Scarlet Wilson was a mixture of military and medical romance. It was a fast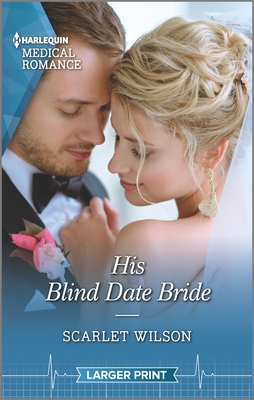 book to read but didn't give that feeling of being rushed. The characters were interesting and had realistic issues that made it easy to connect with them. They both wanted to be in a relationship but knew their unpredictable jobs in the military would hinder dating, so they went the route of dating apps to filter potential dates. To explain their last-minute trips out of town they both lied on their app profiles by listing fake names and careers that would require traveling often.
Ivy Ross (aka Ali) was dedicated to her career as a Navy Flight Surgeon which made relationships difficult since her job took her away for months at a time. She had been texting with Rob (aka Travis King) for two months and they had planned a date twice but both times something had come up and they had to postpone. They had spontaneously planned to meet one night when they were both in town but on the way to meet him, Ivy got emergency orders to report to the Naval ship USS Calvin Coolidge for duty that night. She was disappointed because she had been hoping her next assignment would be a position promoting her to SMO (Senior Medical Officer). Reluctantly she had to text Rob and cancel their date since she had to leave town in a few hours. Once she reached the ship, she texted Rob again to apologize knowing he would probably be upset with her standing him up so after he requested a picture to make up for it, she decided to take a chance and sent one. When her current SMO had a medical emergency and had to leave the ship, she was hoping they would give her the position. She not only was disappointed when she didn't get considered for the position but also extremely surprised when her new boss reports for duty and she recognizes Travis from his photo. Ivy knows mixing duty and personal feelings was not a good idea but the attraction between the two of them was too strong to ignore for long.
Travis King loved his life as a Navy medical surgeon but between his career obligations and PTSD, he'd not had a serious relationship in years. He had reached the stage in his life where he wanted to settle down and have a serious relationship. He never expected to find Ivy on the Naval ship he was sent to as SMO and he knew the instant connection he felt with her was going to make his job difficult as her superior officer. He finally acknowledges and seeks out help for his problems of PTSD because he wants a future with Ivy and doesn't want her to be afraid of being with him. When asked to give an evaluation for Ivy to be promoted to an open position as SMO, he knew that he was putting their careers and their relationship on the line. He knew Ivy deserved the job but was afraid that if their relationship became known it would cast doubt on his recommendations.
This was an interesting story with a unique but realistic storyline. I haven't read any books before this one with a medical/Navy theme and my opinions might be slightly different from others since I'm a Navy veteran. I believe the author did a great job with her research and kept the setting of the story as true as she could to what life onboard a Naval ship is like. The military part of the story might have overshadowed the romantic part, but I feel like the author was trying to illustrate the commitment necessary for careers in the military and how that choice affects their relationships. I really enjoyed the book, but I do feel as if the author made Naval deployments look more like an enjoyable cruise ship experience.
Overall, I think the story was well written and the author's extensive research showed in how realistic the story was.
Book Info:

Publication: December 29th 2020 | Harlequin Medical Romance |
A missed blind date…
…leads to a chance at forever!
After exchanging messages for months via a dating app, surgeon Ivy Ross is finally ready to meet up with "Mr. Right." But when work calls her away the chance is lost…until fate intervenes and Ivy's blind date–Travis King–arrives as her new senior medical officer…aka her boss! Travis and Ivy know mixing business and pleasure is a bad idea, but sometimes bad ideas feel so good…
From Harlequin Medical: Life and love in the world of modern medicine.

Related