What the Greek's Wife Needs by Dani Collins  explodes into a fantastic edge of your seat adventure.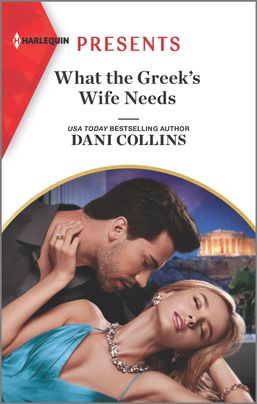 Lots of things happening at once; Tanja about to be hauled off into the depths of hell, only ex-husband suddenly appears with the guise of reuniting with her. Convincing the armed guards, they're in love and one big happy family is tense and frightening and a brilliant way to start Dani Collin's 40th book!
The bumpy ride continues once Tanja and Leon make it to safety with Tanja's 'lil baby in tow. Shocked by Leon's wealth she questions every moment in the last 5 years that he left her starting with Why did he make them all believe he would invest in her family marina? Many more questions ending with why did he leave?
Agreeing to help Tanja in her quest to become a mother to her little foster baby, Leon isn't keen to revisit the past but there's no denying their chemistry; it's the same as it was from day one. Both Tanja and Leon have grown incredibly in the five years they've been apart, Leon now runs his father's business and Tanja has become a qualified accountant. Remaining married in name seems like a great idea until Tanja visits Leon's world and is made to feel out of place. And until they revisit the passion, they both wholeheartedly share – that doesn't make it easy to walk away once everything is resolved.
I adored this roller-coaster adventure; there's nothing like the story starting from the first paragraph. Dani Collin's did a wonderful job of building both characters from when they first knew each other. She wrote a fantastic adventurous plot which kept me engaged. I thought the ending was brilliant and I loved how unique Dani's stories always are.
A brilliant read during the hectic silly-season.
 
Book Info:

Publication: December 2020 | Harlequin Presents |
From USA TODAY bestselling author Dani Collins comes this sexy reunion romance.
She wants to be his wife…
…but only on paper!
Tanja's whirlwind marriage to Leon Petrakis is over. She hasn't seen him since he returned to Greece five years ago. Yet, to keep the baby daughter she's adopting, Tanja has a last request: she and Leon stay wed…in name only.
Leaving behind his exhilarating connection to Tanja wasn't easy for Leon. Yet, to shield her from his family's notorious reputation, he had no choice. He can't reject Tanja's request to make her dreams of a family come true. But ignoring their still-smouldering electricity? Impossible!
From Harlequin Presents: Escape to exotic locations where passion knows no bounds.

Related