Happy Singles Day by Ann Marie Walker: Paige Parker has all her ducks in a neat and tidy row,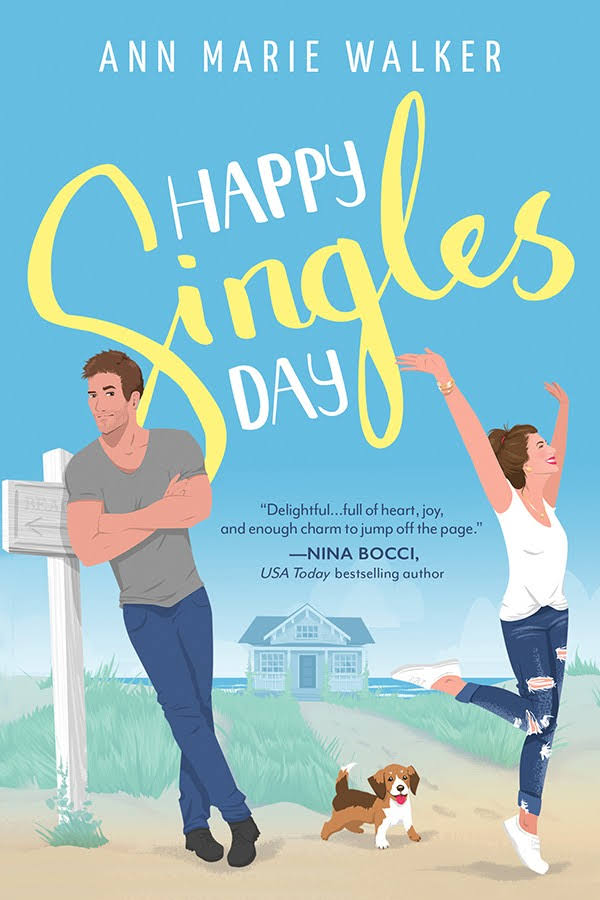 after all it is her job to bring calm and order to mayhem and chaos. With her business well and truly thriving Paige has some what neglected her personal life with not many friends other than her cat Mr. Rochester and her assistant Sammy and absolutely no time off, Paige finds herself being talked into taking a week of work to just chill. With the online site promising a picturesque seaside B&B with the perfect deck to curl up on with a good book and just enjoy the quiet, Paige signs up for a week to celebrate Singles day after all she definitely doesn't need a man to make her happy. However all isn't as it seems when Paige finally reaches the seaside town but with a storm raging she finds herself stuck with the prickly innkeeper.
Starting a cute seaside inn was their plan together but after the death of his wife Lucas hasn't been able to bring himself to actually bring the B&B to life. The very last thing he needed was for his well meaning but meddlesome sister to list the B&B without tell him first, with his first guest due to arrive much to his reluctance Lucas definitely did not expect Paige to turn his entire world upside down!
"She loved her sexy innkeeper no matter what he was wearing, and particularly when he wore nothing at all. But Lucas Croft in a tuxedo was almost too much for her brain to handle."
This was definitely not what I expected, now the saying don't judge a book by its cover proved to be spot on with this read. I went in expecting this to be a cute light read about some race day or some event of the sort (by the looks of the cover) but definitely did not get that! However I did really enjoy what Walker had planned.
Right off the bat I was instantly drawn to Paige, what was not to love about her? She is a strong female that didn't let a man get her down, she is self made and kicking butt. I loved the instant connection that she had with Maddie. As for Lucas, my heart really hurt for him. Though I do have to say once he got his act together he was a pretty nice guy. Now even though this book was a pretty clean read this couple definitely had that constant undeniable pull to each other.
Happy Singles Day was a cute second chance at love/ single dad romance that was easy to get invested in and the ending will just melt your heart. Also I am a huge fan of any and all cute animal involvement and the addition of the ninja turtle puppies just made this book all that more sweet.
 
Book Info:

Publication: January 19th 2021 | Sourcebooks Casablanca |
Single and proud of it! Oh, oops…
As a Certified Professional Organizer, everything in Paige Parker's world is as it should be. Perfect apartment, perfect office, perfect life. And now, the perfect vacation planned to honor Singles Day. After all, what's better than celebrating her pride in being single? Because who needs a man anyway? They have zero taste in quality television, leave the toilet seat up, and sleep with your best friend. No thanks. Her life is fine just the way it is.
As the owner of a now-dormant bed & breakfast, Lucas Croft's life is simple and quiet. It's only him and his five-year-old daughter, which is just the way he likes it. Because who needs a woman anyway? They nag you to clean up your stuff, want the toilet seat put down, and expect the dishes to be done the same day the meal is cooked. No thanks. His life is fine just the way it is.
But when Paige books a room that Lucas' well-intentioned sister listed without his knowledge, their two worlds collide. If they can survive the week together, they just might discover exactly what they've both been missing.

Related