The Forever Girl by Jill Shalvis is a story about second chances. While the story is mainly about Maze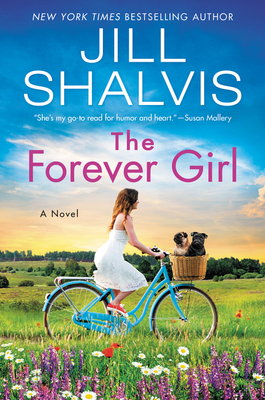 and Walker's second chance at love, it's also about her second chance with her family. Maze, Walker, and Heather were foster children taken in by Cat's parents. When a tragedy hits the family, the three kids were forced back into foster care. Maze takes it the hardest, making her keep the others at arm's length. She briefly lets Walker in, only to run away because she felt it wouldn't last, just like every relationship she ever had in her life.
All the "siblings" had drifted apart, and Cat is determined to finally get them back together by making them arrive early to help with her wedding. Maze isn't the only one hurting, and it soon becomes clear that she and Walker aren't the only ones keeping a secret. Each person harbors their own guilt about what happened that tragic night, and it takes the four of them, together, to finally find a way to start healing.
While this is the sixth book in the series, each book is written to be a standalone. You can jump right into the series here without feeling like you're missing anything.
With The Forever Girl, Jill Shalvis has created a wonderfully touching story about family, love, and second chances that will tug on the heartstrings and take readers on an emotional journey. Readers both new and old to the series are for a treat with this book.
Book Info:

Publication: January 12, 2021 | William Morrow Paperbacks | Wildstone #6
When Maze returns to Wildstone for the wedding of her estranged bff and the sister of her heart, it's also a reunion of a once ragtag team of teenagers who had only each other until a tragedy tore them apart and scattered them wide.
Now as adults together again in the lake house, there are secrets and resentments mixed up in all the amazing childhood memories. Unexpectedly, they instantly fall back into their roles: Maze their reckless leader, Cat the den mother, Heather the beloved baby sister, and Walker, a man of mystery.
Life has changed all four of them in immeasurable ways. Maze and Cat must decide if they can rebuild their friendship, and Maze discovers her long-held attraction to Walker hasn't faded with the years but has only grown stronger.

Related