The Takeover by T.L. Swan: Tristan Miles has been known for his sharp ruthless business ethic, so it is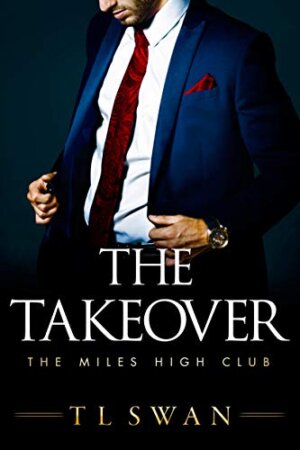 no surprise when he goes after Anderson Media the moment that he hears the company is not going to well financially, being in the acquisition side of the business Tristan was not prepared for the fiery Clair Anderson.
All Claire wants to do is run her late husband's media company, raise her three boys and keep the memory of her late husband alive. So when the company that they had worked to hard to build begins to have financial trouble. Claire is adamant not to sell her sons future, and most definitely not to the devil in a dam sexy suit. Burning the candle at both ends Claire's friend and assistant managed to convince her to go away for the week to do a rejuvenating mind workshop. After much back and forth Claire finally agrees, thinking this will be a good chance for her to recharge. However the very last thing she expected was to come face to face with non other than Tristan Miles. This time she won't be able to just snub him as easily.
"Every cell in my body is tingling, every inch of me craving what he has to give. Good God, the devil really does wear Prada. I'm totally fucking screwed."
Taking it as a sign Tristan doubles down on his charm and mission to win the fiery Claire. With their attraction reaching an all time high the pair are unable to deny it any longer and give into their heated connection and share a wild night together. Not wanting to give up his time with Claire but needing to go to Paris for business, Tristan invites her to join him for the weekend in the city of love. Thinking she might as well get her fill while she can before she has to resume her responsible mundane mum life.
"I feel that when I'm with you, I'm who I'm supposed to be."
However having this weekend together in their blissed out bubble Tristan is not so willing to give up what he has found with Claire. But after having the most awkward meeting with Claire's kids sends Tristan running, but not for long much to Harry's dismay. Being the persistent guy that he is Tristan powers through determined to win the boys over in order to prove his feelings for Claire. But will Claire be able to put her late husband behind her or will she let her guilt hold her back from living a happy life.
My only issue with this novel was the ending, I wanted more from the end. It felt incomplete for me, I would have loved to have seen Tristan with his own kid and see how the boys dealt with a new sibling. The Takeover was a brilliant enemies to lovers romance that I could not put down. This is one novel that I would highly recommend all book lovers read.
"She's snuggled into my chest, and I smile into the darkness. She loves me. For the first time in my life, I feel at home."
The Takeover is hands down a strong 5 star book, that checks every single book lovers box! This book is everything and more, Tristan is the perfect book boyfriend. It was impossible not to fall in love with this closet softy. I loved that even though the boys were initially so against him, Tristan persisted and was determined to win over the boys and show them that he cares about them and not only Claire. As for Claire's character, I really tried to fully love her but she was not my favourite. I found that her problem with letting go of her late husband held her and the boys back from loving a full and happy life.
 
Book Info:

Publication: August 27th 2020 | Montlake | The Miles High Club #2
In bestselling author T L Swan's second hot installment to the Miles High Club series, he's sexy, rich, and her mortal enemy. Hate never felt so good.
I first met Tristan Miles at a meeting where he was trying to take over my late husband's company.
He was powerful, arrogant, and infuriatingly gorgeous, and I hated him with every cell in my body. In the shock of the century, he called me three days later and asked me on a date.
I would rather die than date a man like him—though I do have to admit it was good for the ego. Turning him down was the highlight of my year.
Six months later, he was the guest speaker at a conference I attended in France.
Still arrogant and infuriating—but this time, surprisingly charming and witty.
When he looked at me, I got butterflies.
But I can't go there.
He's just a player in a hot suit, and I'm just a widow with three unruly sons.
I just need this conference to be over.
Because everybody knows that Tristan Miles always gets what he wants…and what he wants is me.

Related