Fairy Godmothers, Inc. By Saranna DeWylde: Fairy tales, fairy godmothers and cursed frog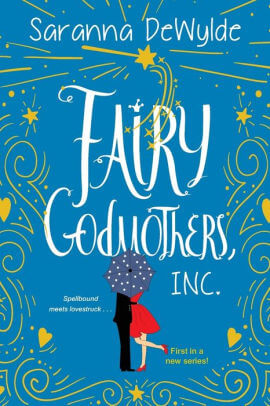 Prince's are all make believe right? Not in the cute small town of Ever After, Missouri this is where magic lives and all of our favorite childhood enchanted friends, but all is not well in Ever After you see the magic seems to be losing its juice and is in need a major boost. Now where would one get a magical boost you might ask? Love, that is where all magic comes from after all. But like any good fairy godmothers worth their wands Petunia, Jonquil and Bluebonnet Blossom have a plan to bring not only the magic but the love back to Ever After and that comes in the form of their two favorite charges Lucky and Ransom.
"It was as if the two of them had been caught in a bubble outside of time and space. The sound of her heartbeat in her ears was like listening to the ocean in a shell."
Lucky Fujiki is the walking talking embodiment of bad luck, catastrophes and mishaps follow her everywhere she goes, so much so that all she has to do is hug you to transfer some of her bad luck onto a person. Her bad vibes run so deep that they have come between her and the one guy she has always loved, Ransom Payne. Ransom the king if chocolate will do just about anything for the three ladies that helped make him the man he is today, even if it means coming face to face with his old flame. With the two having ended things on a rather sour note and neither one wanting to bite the bullet and apologize things get super awkward and entirely entertaining when the three sweet godmothers request that Ransom and Lucky get fake married in order to bring some much need publicity to their matchmaking business and in turn help bring some life to Ever After.
"My biggest fear is that I'll have to spend the rest of my life without you . I love you, Lucky. I don't have shining armor, but I can promise you Happily Ever After."
As Lucky and Ransom stumble down their obstacle laden path one thing is as plan as day their feelings for each other is undeniable, but when Luckys unluck comes in the way of Ransoms business will this be the last straw that breaks the camel's back or will the magic of Ever After bring these two a happily ever after?
This has to be the best book to end the year with! I loved every single second of reading this fairytale romance. It was impossible not to instantly fall in love with all the characters, but really the stars of this book were the three meddling fairy godmothers! These three where just brilliant, think of the happy nice version of the witches from Hocus Pocus and you have yourself the Blossom sisters. I loved that they just couldn't help but meddle but in the most hilarious ways possible.
"This was part of Happily Ever After, too. It wasn't just about the prince and princess riding off into the sunset. It was the journey after, when they got into the same carriage and decided together which path to take and who to take with them."
As for our unlucky lady Lucky, I absolutely loved her, but boy did my heart just break for her, I couldn't even imagine bring so clumsy and just generally unlucky. I have to say that I did love that her luck turned around once she accepted who she was. Now as for Ransom, there wasn't much not to like about our hero, he stood by Lucky even though every time they touched some catastrophe came his way be it mutant cherry's or broken beds. I have to mention the stellar set of support characters, I that they each had their own side story. Also we definitely need Gwen to get her own book asap!
I absolutely loved reading this modern take on the fairy tale world, I would strongly recommend reading this hilarious book. The Blossom sisters will instantly have you wanting your very own set of fairy godmothers!
Book Info:

Publication: December 29th 2020 | Zebra Books | Fairy Godmothers, Inc. #1
If love is the source of all the magic in the universe, and the town of Ever After, Missouri, is the epicenter of enchantment, then the locals are in dire need of a reboot. At least according to resident fairy godmothers Petunia, Jonquil, and Bluebonnet. Their solution? Blow a bit of fairy dust in the direction of those in need of romance…what could possibly go wrong?
SOME KIND OF AWFUL…
Lucky Fujiki's first name is a cosmic joke. Her luck is so bad, even the number seven steers clear of her. But when her adorable godmothers ask for a favor, Lucky can't say no–even if she can already feel the bad juju waiting to strike. And her mission is even worse than she imagined: to promote Ever After as a wedding destination by faking a marriage to her first love and long-time ex, Ransom Payne–he of the Embarrassing Incident that neither of them will ever live down…
OR ALL KINDS OF WONDERFUL?
Ransom Payne has spent years building an impressive new reputation for himself, and now his godmothers want him to pretend to wed the one girl he'd like most to forget? Sure, weddings in Ever After could be a huge boon for his chocolate business, but risking more up-close-and-personal time with Lucky? Considering the stakes, it's a curse he'll have to bear, at the risk of being humiliated–or perhaps, bewitched…

Related