In Destroyed With You (Stark Security #5) by J. Kenner, Winston Starr ended his career as a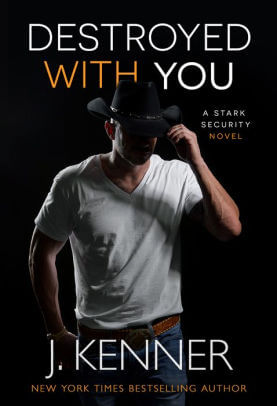 small-town sheriff in Texas after his wife was killed by evil thugs. It was all his fault, for digging too deep into a case that put him and Linda on their radar. Now Winston has a renewed purpose in life. It took a few years of grief and pain, but he's now working for Stark Security and plans on chasing down criminals to atone for what happened to Linda. A new case, though, has Winston rethinking his entire past with his wife when he finds out that she's very much still alive.
'And so he kissed her, this woman he'd kissed so many times in his dreams and memories. The woman he'd never expected to feel again in his arms.'
With the danger his new mission brings, Winston needs to keep a clear mind. But facing down the woman he loved more than anything on earth–to find out she lied–is tough to deal with. And it doesn't help that he's still just as attracted to Linda as he was when they first met. Linda herself has a lot happening in her life. Things that could harm Winston. They somehow find themselves on the run from bad guys, working through not only the pieces of the puzzle to take down a crime organization, but also how they move forward if they make it out alive.
'I want a past that is gone, a man that I can't have, and a love I don't deserve.'
An emotional story of second chances, deception, intrigue, and the undeniable strength of love, Destroyed With You was an action-packed addition to J. Kenner's Stark Security series.
'I loved Winston Starr once, and I need him to know the truth. Vows, promises, and oaths be damned.'
You can count on J. Kenner for a solid plot and lots of heat in her books. And she doesn't scrimp on the genuine emotions, either. Destroyed With You was all of that plus it had a thread of suspense (our couple was on the run) that made me not want to put it down, it had me so hooked right from the start. Kenner's attention to detail and evocative writing style was perfect for this type of fast-moving storyline, with so many characters and moving parts to keep track of. She made it easy to get swept away. Which is one of my favorite things about her books.
I thought one of the most interesting things about Winston and Linda's reunion was not only how strong their attraction still was–they had previously been happily married for some time, after all–but how they each handled the betrayal(s). It worked well having this in both Linda's and Winston's POVs so we could get a better sense of where their head was at with everything blowing up around them. There were honestly times that I was a bit miffed with them, though. (lol) But there were reasons that came into play over the years why Linda and Winston made the decisions they did. Dangerous reasons, at that. I think if readers keep an open mind, they'll be happily surprised with how it all works out.
Destroyed With You will take you on an exciting, wild ride where you're not sure who to trust but you know you just *have* to root for the hero and heroine to defy the odds stacked against them. Definitely recommended.
Book Info:

Publication: Published December 15th 2020 | Pub: Martini & Olive | Stark Security #5
Former sheriff Winston Starr doesn't think about the past. That dark day when he lost the sweet, innocent woman he'd loved, dead because of his mistake in a mission that had gone horribly wrong.
Now an operative with Stark Security, he's left Texas behind, focusing only on his work and closing his heart to love even as his soul screams for revenge against the scum that killed his Linda. When old friends reveal new evidence, Winston learns that not only is Linda alive, she faked her death in the ultimate betrayal.
But things are not as Winston believes, and he soon finds himself on the run with the woman who ripped his heart out. Now, the only thing stronger than his rage is his desire for the woman who destroyed him.

Related