The Commanding Italian's Challenge by Maya Blake is a Harlequin Presents December 2020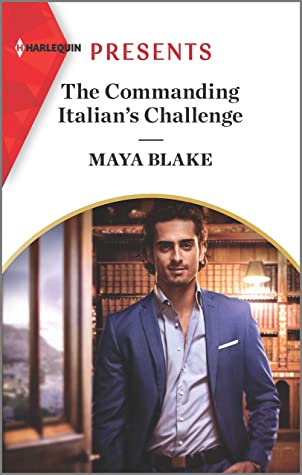 release which is surprising in more ways than one. One surprise about the dark and mysterious hero Maceo is something I'm not sure I've read before and I'm not going to spoil it although I suspect other reviews might mention it. I thought it was quite well handled. I'm always up for an author being brave and trying to look for fresh and innovative ways to deliver the same troupe to their readers.
I'm a huge fan of Maya Blake. I was looking forward to her latest release and I was won over by the first page which the first clue this story wasn't going to take the usual path. Immediate questions were triggered, such as why is Maceo at a graveside present day? A very good surprise twist was the outcome and I liked the idea. A lot of detail went into Maceo and I loved his gruff standoffishness. He really was captured as a dark and commanding grump, I loved it. He really was CEO and had no time for anyone to mess him around.
I love it when a heroine is the complete opposite and it causes the hero to wake up and smell the roses. Faye was delightful and strong and had questions about the past only Maceo could answer but used her brains to go about trying to tap into Maceo's knowledge. She was very likeable and enjoyable to read about.
As per Maya's other stories, the plot is imaginative and next level. The passion that drives Maceo is true Presents style and Faye is intelligent and really is the rainbow Maceo describes her as. Fave quote of the story is when Faye's mother tells her "You've settled your past Faye, now go fight for your future". And as per all good Presents heroine's, she does.
 
Book Info:

Publication: December 2020 | Harlequin Presents |
A fiery first encounter leads to irresistible temptation in this dramatic Italian romance by Harlequin Presents author Maya Blake.
"My request is simple."
But resisting their chemistry is not!
By-the-book Maceo Fiorenti has fought hard to protect his company. He's not going to let the arrival of free-spirited Faye Bishop upend his entire world. At least not without demanding she prove she's worthy of the inheritance his godfather left her.
Faye came to Capri to discover why her long-lost stepfather would leave her a fortune. She didn't bargain on the challenge set by his godson, tough-as-nails CEO Maceo! Yet that soon seems easy compared to the challenge of resisting the unavoidable magnetism between them…

Related