Never Have You Ever by Elizabeth Hayley: Sneaking a guy out of a sorority, piece of cake right? Oh boy was Sophia so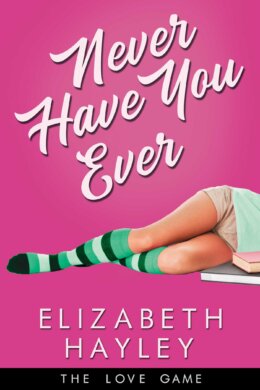 wrong, nothing is easy with the witchy Aamee president of Zeta ETA Chi ready to pounce at any moment. Convinced that Sophia has broken one of the Zetas rules by having a boy stay over night Aamee promptly kicks Soph out of the house. Deciding the best place to crash until she can find a way back into the house Sophia heads to her brother Brody's apartment, the only problem being when she arrives it is not Brody that answers the door but someone who swears blue blind that he is indeed Brody!
When rich party boy Brody propositions Drew to pose as him and addend all his classes while he parties up a storm overseas; Drew decides to roll with it after this is his chance to get the college experience. Everything had be going swimmingly that is until the real Brody's sister shows up demanding to know who the hell he is and why is he pretending to be her brother. As the two realise that they are both in this mess together they decide it best to just go with the charade and pretend to be siblings. As they get to know each other more Drew and Soph decide to take Aamee head on for her unfair ruling. But what happens when their platonic feelings begin to get very very steamy all while still having to keep an eye out for the she devil?
I absolutely loved this laugh out loud romcom. Both Sophia and Drew where amazing characters, I loved their dynamic and the way Drew kind of just went with all of Sophia's wacky plans even if that meant pretending that he was gay. Oh my gosh the gay plot line was hilarious, I absolutely loved Carter's part in this entire but. Hayley did a brilliant job with creating and developing all her secondary characters, I am a huge fan of having secondary characters that play a key role in the entire story and this book has that in buckets. I absolutely loved the wacky group of misfits that come together.
The only thing holding me back from giving this book a fabulous 5 star rating is that it ends with a cliffhanger! I absolutely hate cliffhangers, like hello where is my HEA? Nevertheless Never Have You Ever was a brilliant read that is definitely worth waiting to find out what happens next in this series! Do yourself the favor of getting this book and prepare yourself for a load of laughs and a what the hell just happened moment.
Book Info:

Publication: November 10th 2020 | Waterhouse Press LLC | The Love Game #1
Who is this guy?
Sophia Mason's junior year of college isn't exactly off to the best start. The semester has just begun, and the president of her sorority has already ousted her from the house. With nowhere else to turn, she ends up at her brother's apartment—only to find it inhabited instead by a handsome stranger.
On paper, Drew Nolan doesn't have much going for him as an uneducated bartender from a sketchy family. But when a spoiled rich kid asks Drew to take over his life so he can travel around Europe instead of attend classes, Drew sees the opportunity to get the college education he's always dreamed of.
Forced into a cover-up under the same roof, Sophia and Drew forge an unlikely friendship. As the two grow closer, lines blur and boundaries stretch, and they find comfort in living the lie they've adopted. But reality comes knocking all too soon, and Sophia and Drew will have to weigh what's worth fighting for and what should never ever have been.

Related