The King's Bride by Arrangement by Annie West is a Harlequin Presents December 2020 release dedicated to me! Ok, it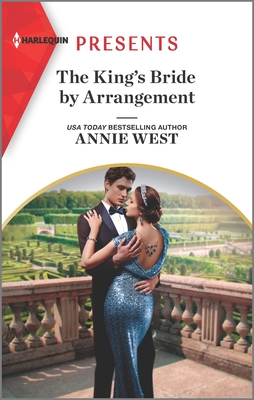 was dedicated to all the people who asked if King Paul was going to get his own story and since I asked out loud in my review of Revelations of a Secret Princess… I'll assume Annie dedicated this lovely book to me.
I really enjoyed the setting; the book felt regal and the descriptive narrative was beautiful. I really felt like I was a fly on the wall of St Ancilla and the beautiful sounding lodge. Annie West has such a wonderful way with words and it really pads out a story in a fulfilling way which helps with the escapism side of a Presents novel. Backed up by King Paul's recollections to Princess Eva of his past and when he was growing up really accentuated the royal life of a King.
King Paul was so likeable; he really shone through and I brought into him and his story 100% and wanted the world for him which is quite unusual because usually it's the lead female that a reader will find themselves barracking for. But as per everyone's wish this was King Paul's story so he deserved the win. He was a hero rescuing Princess Eva and he showed compassion when he stood up for her in front of the media. He clearly liked Princess Eva from page one and his smile when she entered was a wonderful touch.
The King's Bride by Arrangement was a wonderful story where the reader follows the rocky and delicate path of love for two people, betrothed by family arrangement; who have known each other for a long time; Princess Eva knowing how much she adores King Paul from the word go but of course miscommunications see the potential end of the engagement and the question is, are either or both brave enough to wear their hearts on their sleeves and risk everything.
Book Info:

Publication: December 2020 | Harlequin Presents | Sovereigns & Scandals #2
In this enchanting royal romance from USA TODAY bestselling author Annie West, a hidden passion is soon to be revealed…
His promised queen's secret:
He's the only man she's ever loved!
Princess Eva's always known her long-standing betrothal to King Paul of St. Ancilla is a political match. That doesn't mean she hasn't privately craved more! Paul ending their engagement is heartbreaking confirmation he'll never feel the same.
Paul's rebuilt his country after his father's destruction. His ultimate act of kingship is releasing Eva from their convenient arrangement. Until a scandalous photo requires them to continue their betrothal…and an explosive kiss has Paul questioning everything he thought he knew about his royal bride!
From Harlequin Presents: Escape to exotic locations where passion knows no bounds.
Read all of the Sovereigns and Scandals books!
Book 1: Revelations of a Secret Princess
Book 2: The King's Bride by Arrangement

Related