In 365 Days (365 Days #1) by Blanka Lipińska, Some birthdays are definitely more memorable than others. It might be the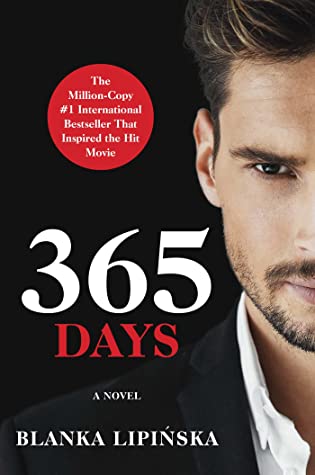 party, the presents, or the location. In Laura Beil's case, her twenty-ninth birthday was the day she was abducted while on vacation in Sicily. And it wasn't just a random thing either. The man who kidnaps her, Don Massimo Torricelli, has plans to keep Laura under his so-called care for a year to try to win her heart. The mafia don is sure that he will be successful with the woman who appeared in his dreams during one of the darkest times of his life, though–it's his fate.
'In my eyes, he was the perfect man–an alpha male, a guardian and defender. For the rest of the world, he was an unpredictable and dangerous mobster.'
Laura doesn't know what the best course of action is: fight against her abductor, trying to find an escape from his many properties during their travels across Europe, or play along and enjoy the decadence that is Massimo's lifestyle while she can. But Laura is taken by surprise to see a softer side to him from time to time. Enough to make her wonder if they could actually have a steamy relationship after all. Although with Massimo's dangerous life, they are both put in harm's way over and over again, making it difficult for the pair to get a lock on if they truly can make things work between them.
'One thing was for sure: this wouldn't be an ordinary, boring life–more like a gangster movie sprinkled with some porn.'
365 Days was a decadent and melodramatic erotic romance that took readers from the dangerous world of the mafia to a passionate affair that started with an abduction.
'My options were to either spend the next 365 days fighting this man, which could only end in defeat, or learn the rules of the game and play it.'
I will start by saying that I haven't watched the 365 Days movie on Netflix yet, although I have watched the trailer so I had a good idea of the heat level this would have. It was definitely hot. And kinky. But it was also confusing. I have a feeling that the story was a bit disjointed probably where it was translated from Polish to English. However I was a little sad that there wasn't a whole lot in the way of a plot through most of the book aside from our hero kidnapping the heroine and the deal he made to win her over in 365 days.
Don Massimo and Laura were a volatile pair. It honestly reminded me of the dramatic romances in 80s soap operas where the heroine goes from yelling at the hero and smacking his face to then being completely turned on. Yeah, that was Laura and Massimo to a T, right down to the champagne drinking, spa days, and focus on fashion over substance. It did sort of fit with the mafia world he lived in. But I wanted to see more of a true connection built between them, not the brief glimpses of genuine emotion we saw between Laura's theatrics and Massimo's high handed ways.
I did love that it was set in a few different exciting locations in Europe. The background descriptions were great, really painting a picture of the surroundings and even some of the food and traditions in each locale. I'm sure that also adds to the appeal of the movie, being able to see the gorgeous scenery along with Massimo and Laura's tumultuous relationship.
A world-wide phenomenon that will be bound to get a strong reaction out of readers, 365 Days was just the beginning of the explosive trilogy by Blanka Lipińska.
Book Info:

Publication: February 2nd 2021 | Emily Bestler Books / Atria Books | 365 Days #1
The sexy and deeply romantic internationally bestselling novel that inspired the blockbuster movie.
Laura Biel and her boyfriend are on a dream vacation in beautiful Sicily. On the second day of their trip, her twenty-ninth birthday, she is kidnapped. Her kidnapper is none other than the head of a powerful Sicilian crime family, the incredibly handsome, young Don Massimo Torricelli, who is determined to possess her at all costs. Massimo has his reasons. During an earlier attempt on his life, a vision appeared before his eyes: a beautiful woman, identical to Laura. After surviving the attack, he vows that he will find the woman in his vision and make her his own. No matter what.
For 365 days, Massimo will keep Laura captive in his palatial estate and attempt to win her heart. If she doesn't fall in love with him during this time, he will let her go. But if she tries to escape at any point, he will track her down and kill her entire family.
Soon Laura develops a fascination with her handsome and powerful captor. But as a precarious, risky relationship forms between them, forces outside their control threaten to tear them apart…

Related