Going Under by Skye Jordan: After landing up at the emergency room on Christmas eve after managing to rip up her arm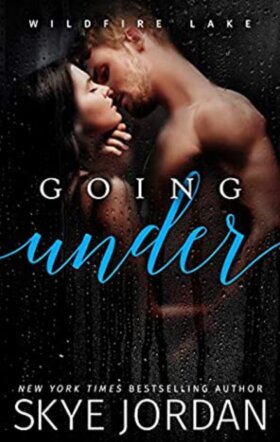 while fiddling with the boat engine, KT meets the charming doctor Ben. The two instantly hit it off, and when Ben mentions that he has to build his youngest daughter her dream bed, KT makes a bold move by offering to come over and help build the bed with Ben. Soon the two fall into an easy yet steamy relationship and what was initially supposed to be a few fun nights with Ben, begins to turn into KT fitting in with this cute family, so much so that when she realizes how close she has gotten to something she never realised that she wanted, KT freaks out. But the question is will she realise that Ben and the girls are actually what she has been looking for all this time before it is to late?
"I've been needed for so long, I couldn't see the difference between need and want. And the idea of having a woman as strong as KT wanting me without needing me feels… surprisingly powerful."
I loved the steamy chemistry and witty banter between KT and Ben. I have to say I thought their first meeting was super meet cute and that only lead on with them making the bed together. The majority of this novel was amazing but I will say that I did find a few flaws but nothing so major that it took away from the story. I think the only thing that really irked me was how insistent KT was that she didn't want to see what she had built with Ben and the girls was an actual relationship. She was so fixated on wanting to live by this idea of only having flings that she didn't see that was no longer something she wanted.
"This relationship thing is as new to you as traveling the world is to me. I'm willing to trust you when it comes to sailing , and I hope you'll be able to trust me when it comes to us." I let out a long breath . "I'm not sure if this will make us or break us." "There's only one way to find out." He tucks a strand of hair behind my ear. "Jump with me, Kat."
I will say that I loved how fast KT bonded with Ben's daughters and that her own upbringing did not taint the way she interacted with the girls. If anything I think they helped her heal. On another note, I have to mention the that KT, Laiyla and Chloe's friendship was definitely a beautiful and strong one, and the way that these three women formed their bond was shocking to say the least. I will say it would definitely be better to read the first book just to see the relationship between the three girls grown.
I would definitely recommend reading Going Under, this book will have you feeling all the emotions right along side both KT, Ben and the kids.
 
Book Info:

Publication: September 14th 2020 | Skye Jordan | Wildfire Lake #2
Some women want roses and I love yous. I want hot guys and great sex.
Maybe I've absorbed too much testosterone employed in the male dominated world of mechanics, only, I'm no longer working on a cruise ship with sexy men around every corner. I'm building a business with my two best friends in a small town where reputation is everything.
But it's only six months before I can take my money and run–straight back to the sea. Only this time I'll have my own sailboat, choose my own destinations, and live by my own rules.
When I meet Dr. Delicious over stitches, we've got instant heat, but he comes with major drawbacks, starting with an affinity for dating and ending with his status as a single dad.
Before I know it, I'm putting together a frilly "dream bed" for Christmas and teaching his oldest to repair a carburetor.
Dr. Delicious is the very definition of commitment, and falling for him is a non-negotiable no way.
Too bad my heart hasn't gotten that memo.

Related